Build It With Bob Construction Set Review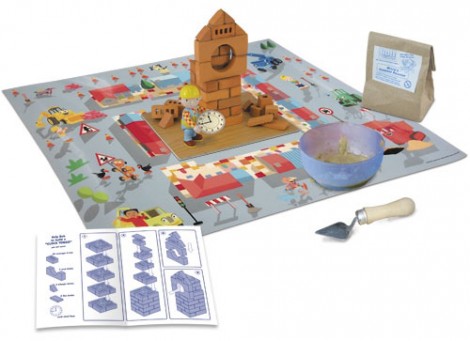 My youngest LOVES Bob. So I was greatly relieved when we shipped out the Bob the Builder: Build it with Bob 70-Piece Construction Set we'd been sent to one of our mum reviewers.
These are 'marmite' toys; you're either going to be a lover or a hater!
You see, it comes with REAL bricks, REAL cement (oh yes, real cemet!) and a REAL mini trowel. It also comes with a poseable figure of Bob (that's ok, I can cope with that).
NOW you know why I was quaking in my boots HOPING it wasn't going to be given to me to review; my carpet was terrified for a moment and the cleaner put on standby (that would be me!).
Louise was our chosen mummy victim to experience the delights of authentic brick laying with the Bob the Builder: Build it with Bob 70-piece Construction Set (oooh I'm so glad it wasn't me!).
"The box arrived wrapped securely in a couple of layers of bubble wrap. The box the set is in is quite large, and nicely sturdy. It has a sort of lid that opens up, which I really liked as it means you can store everything for the set in its own box," Louise told us.
But although it was wrapped up nicely on the outside, it wasn't quite so well protected on the inside.
"When I opened the box though everything felt slightly gritty. There wasn't a lot of packaging inside, so all the bits had been moving about loosely within the box," Louise continued.

This meant that some of the real clay bricks were slightly damaged and had little chips on them. This really upset Louise's son as he's used to the shiny perfectness of Lego bricks, this was a whole new world for him and at this stage he wasn't keen!
Along with the 70 bricks the Bob the Builder Construction Set comes with a card roof. It's printed with tiles and Pilchard the cat (such a great name for a cat) who's about to pounce on a bird.
"There's also a board for the floor of the house, a paper bag of cement mix, a bowl for mixing it in, a cloth and a little mortar thingie for applying cement to the bricks, and finally, a mat that I guess is meant to help keep the mess contained," reported Louise.
It was the 'guessing' that the mat was supposed to help keep the mess contained that, at this point, had me fearing for Louises flooring and soft furnishings.
"The instruction phamphlet shows you how to layer the bricks up to build a house. I found this a bit puzzling as there's no instructions for applying the cement. So I just stuck some mix in the bowl with a bit of water and hoped for the best. I didn't know how to apply the cement to the bricks, so I just let my son get on with it. Cue one big almighty mess!"
Poor Louise! Her son also found it difficult to understand why he couldn't change his mind about where he'd put the bricks and just move them, the way he does with Lego.
Eventually, Louise turned the pages of the instructions over to discover that the LAST page has find that the last page has the information she was looking for.
"'First, you need to make the cement!' I was not amused. Surely the first step should be the first instructions! Anyway, I had clearly made the cement wrong, using far too much water. So we made a second batch, and this was much better."

But be warned, once you've unleashed your own little brick-laying expert you can't take your eyes off them for a second!
"I had to leave the room for TWO seconds and came back to discover a cement a-l-l over the floor because he'd decided he wanted a cement base! That was pretty much the end of the cement that I had in the pack," confessed Louise.
But fear not! The instructions say 'when you want to build something else just soak your building in water and the cement dissolves'.
"I'll have to do that and then give it another go," Louise carried on as it doesn't say what to do for more cement. Maybe you can dry out the residue when it falls to the bottom of the water? I don't know, but I guess I'm going to find out!"
And finally...

If you have a child that utterly ADORES Bob the Builder then this is going to have them jumping up and down with joy.
If you're a fearless parent in the face of words like 'real cement' and 'mix with water', it will provide them with a completely different building experience - this is not like fitting lego blocks together, this is REAL building!
Bob the Builder: Build it with Bob 70-piece construction sets retail for £22.99 and is available from Firebox.com, Boots and Mail Order Express.
And about the cement all over the floor?
"It really does dissolve in water and, even after hardening, I was able to get it all off the kitchen lino without leaving any stains or damaging the tiles," Louise concluded; HURRAH!