Asda Back To School Review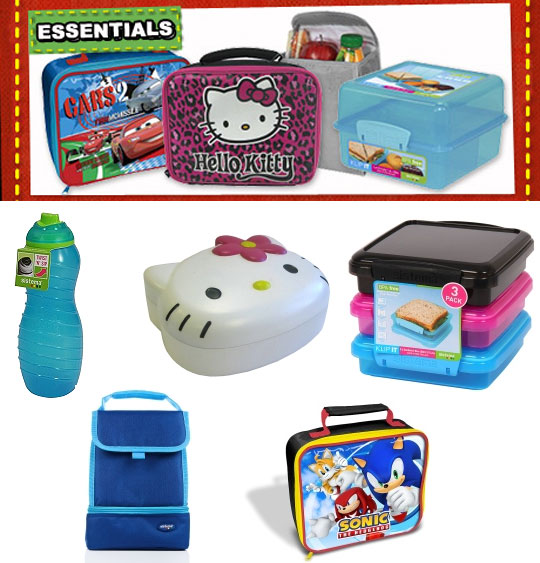 If you're still battling on with various bits and pieces of packed lunch equipment such as tatty old lunch box bags, lunch boxes that have really seen better days or drinks bottles that leak then you should have a quick read through this review - Asda sent me lots of great back to school lunch things to review for you.
I've got lots of items to tell you about, so I'll rattle through them one-by-one otherwise we'll be here all day!
First up, and first whisked away by my youngest son Edward, was a Sonic the Hedgehog lunch bag.  It's a soft lunch box bag and has a thermal insulated lining to help keep cold things cold or warm things warm.
It doesn't have any sections within it so you're not constrained in any way as to what shaped things you can fit inside and the Sonic image is embedded into the bag, rather than being a transfer - if you see what I mean - so it won't wash off, ever.
The Sonic the Hedgehog lunch bag retails for £8 and was (still is!) a big hit with Edward - he gives it a 10 out of 10 and whilst there's nothing wrong with it, it's very basic for £8 so I'm going to take off a point for that (you'll see why when I tell you about the next lunch bag) so it's a 9 out of 10 for the Sonic the Hedgehog lunch bag.
The next lunch bag we pulled out of the box is an  Aqua lunch bag by Sistema - I do love Sistema things - and costs less than the Sonic lunch bag at just £5.
The Sistema lunch bag has two sections: a zipped rectangular section for a lunch box, or other containers that will fit, on the bottom and then a larger section at the top for drinks bottles or longer things like bananas that won't fit anywhere else.
It comes in pink or blue and both sections are insulted too - for my money this is a brilliant lunch bag, it's plain though so Edward said it was 'rubbish', but then he is only six years old and going through an 'everything has to be patterned or have a picture on it' phase, so I'm giving the Sistema lunch bag a straight 10 out of 10.
So we have two lunch bags, now we need things to put in them.
Next out of the Asda Back to School box was an ingenious lunch box, also by Sistema, that has various compartments to keep things separate - I love this, there are few things worse than sandwiches or jam tarts (that's a flash back to my infant school lunch days - jam tart pastry soggy because my drinks bottle leaked Ribena onto them; YUK!) being ruined because they came into contact with something else.
The Sistema Klip-It Cube lunch box, as it's called, also comes in pink or blue and I've included my own photo of it here so you can see exactly what I'm talking about.  It has two sections - the top and the bottom - which are separated by an attached 'divider' that flips open and clips closed, the bottom section is then subdivided into two sections as well by a static divider; the whole lunch box closes with a very robust Sistema click-and-close clasp.
I hope that all makes sense because this is an awesome lunch box and well worth its £4 price tag and earns the Sistema Klip-It Cube lunch box also gets a 10 out of 10. 
If you just want, or need, a basic box that will fit a couple of rounds of sandwiches in, then you should consider the pack of three Sistema sandwich boxes - the colours are black, pink and blue and cost just £6 all in.
They are simple and straightforward - just a square box for up to two rounds of sarnies - and features the wonderful Sistema click-and-close clasp.  The boxes are BPA free, are dishwasher, freezer and microwave safe and on the label it says they are, and I quote, 'made from lead free virgin material' - the mind could boggle, but we know what they mean!
The price is great, the product is great, the size of each lunch box is great (450ml) so it has to be a 10 out of 10 for the pack of three Sistema sandwich boxes.
If you have a Hello Kitty fan in your family then they may prefer a Hello Kitty shaped plastic lunch box.  I'm not so sure about this one to be honest - it looks cute but it won't fit much in and is going to be tricky for square things like sandwiches.
The top slides over the bottom half - there's no catch, no closing clasp and no air tight seal, it could also be quite tricky for little hands to open as, when the lid is on, the edges are smooth all the way around.
It costs just £3 so if it is a bit of a lunch box failure it's not going to be the end of the world, and your Hello Kitty fan could always use it for keeping treasured bits and pieces in.
However, looking at it from a lunch box point of view, I can only give the Hello Kitty lunch box 7 out of 10 due to it's awkward shape and possible trickiness for little hands to open.
We're almost done, just two more things to go!
Lunch box cubes and sandwich boxes are all well and good, but what if you want something a little smaller to put little things in - like raisins or other small tasty snacks that would just rattle around in anything remotely large?
Well, Asda sent me a pack of four little round pots.  The actual pots are clear, so you can see what's inside, but the lids are each different colours.
They don't have to be used solely in lunch boxes, they will also be very handy for freezing small amounts of homemade baby food if you also have a little one who's reached the weaning stage.
The four Asda food pots cost £1.50 for the four and can be washed in the dishwasher, as long as you put them on the top rack only - so away from the element!
You really can't go wrong with four little storage pots for this price, and they're so handy, so they also get a resounding 10 out of 10.
So we've covered lunch bags, we've done lunch boxes, sandwich boxes and storage pots - that just leaves one more thing to complete the whole 'packed lunch for school' kit list, a drinks bottle.
We're back to Sistema for this with their Aqua Davina Twist 'n' Sip BPA free drinks bottle - I'm sure you can already guess what it's score is going to be!
You know how some (most) drinks bottles require you to pull up the drinks spout to allow your drink to run through it?  Well that can be tricky for small fingers, especially once that spout is wet.
You don't have to do that with this Sistema bottle, instead you just twist the entire collar of the lid and the spout moves up and down to open or close itself.  I hope that makes sense because it's fabulous and very easy for small hands to be get to grips with, and big hands for that matter!
It's quite big too - it holds 700ml - retails for £3, is available in pink and blue and also earns itself a 10 out of 10.
And finally...
I know it's been a long one so I'll keep this brief - if you're a bit behind with all the back to school planning and need some new lunch box things, or just need storage containers in general, then you won't go wrong if you choose any of these bits and pieces from Asda (apart from maybe the Hello Kitty sandwich box).
The prices are all spot on, anything by Sistema is always fabulous and you can either go in-store to collect or buy them online and have them delivered to your home.