3D BreakThrough Puzzles Review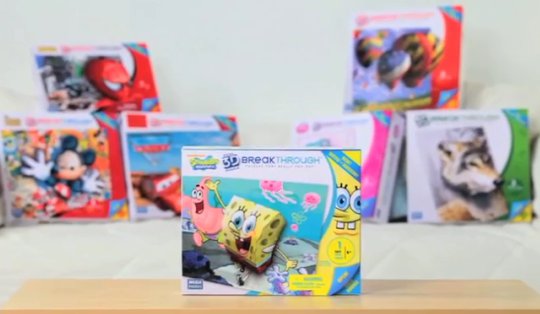 We received something rather unusual and unique to review for you this week: 3D BreakThrough Puzzles.
Now, we all know what puzzles are, and what a good experience sitting together building a puzzle can be. There's always such a sense of excitement as the final pieces start coming together, and such a sense of achievement when the last piece slots in. And then… well, that's the question. What then? Do you break it up piece by piece? Do you break it up in sections for when you 'one day' decide what to do with it? Do you frame it?
My dad took my mum's two favourite round puzzles and actually made coffee tables for her out of wood, then framed them into the tables. They were gorgeous and are still used as coffee tables in their house – but there are only so many coffee tables you can make.
Then came along 3D BreakThrough Puzzles, definitely the next generation of puzzles, bringing your 2D puzzles to life.
The premise is simple: Build your 2D puzzle, then build the 3D parts, clip them, glue them, and there you have a 3D puzzle, ready to be framed.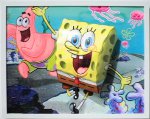 At the moment the range isn't expansive, but there's enough to get you started and I'm sure they'll be adding in time. The puzzles come in three 'categories': Easy, Moderate and Advanced.
Easy puzzles include Face Off – which is Spiderman themed – and Sponge Bob and Patrick, which has Sponge Bob as the 3D stand-out character. These consist of 100 pieces and are suitable for the 6+ age range.
Moderate has A Twirl of Magic- the Disney Princesses-, Cars 2, with Lightning McQueen escaping the 2nd Dimension, Classic Mickey Mouse and a gorgeous Hot Air Balloons scene. These consist of 200 pieces and are suited at age 8 and over.
Al Agnew's The Watcher makes up the only Advanced puzzle, a wolf that stares at you head on. This 300 piece puzzle is for those over 12 and consists of a large amount of complex folding techniques.
We received both  Sponge Bob and Patrick and Hot Air Balloons to test, and needles to say this was one (or two) for the husband and me, not the toddler.
Starting with Sponge Bob and Patrick, the box contained a bag with the puzzle pieces, a bag of glue, two plastic bags of clips in red and black, two glue spreaders, three sheets of cardboard press outs (these will make up 3D Bob) with guide lines and numbers on the back for folding and construction and a full colour assembly instructions booklet.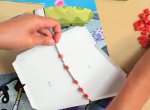 To start with, you build the traditional 2D puzzle, remembering that a large section in the middle will remain blank.  The puzzle pieces themselves are a mix of traditional puzzles around 3cm across and some non-traditional shapes in larger sizes, for instance one large piece that looks like three smaller pieces already put together. These end up being the bits the 3D part will be clipped to.
It's a pretty simple puzzle, easy to follow and I'm sure a 6 year old would love putting it together.
You then use the glue and scraper or spreader thing to glue together the front of the puzzle. You wait an hour (you can assemble the 3D bit in this time) then turn the puzzle over and spread the glue over the back.
The next step is to carefully punch out the cardboard bits from the sheets. The back of each piece has solid and dotted lines on it,  so you fold the dotted lines downwards and the solid lines upwards.  Using the numbers provided you then start lining the pieces up in the right order and then attach them using the red clips.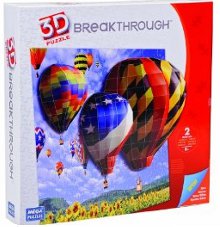 Finally, you attach the 3D piece to the puzzle using the black clips.
And just like that, you have your 3D puzzle, ready to be framed and hung and admired all round.
The Hot Air Balloons pretty much follows the exact same process, with the difference being that it has three 3D parts, so there's a fair bit more folding and clipping to do, which is nice if there's more than one person building the puzzle as you can all take responsibility for one element.
Obviously I haven't had these for years, so I can't vouch for how long the glue will hold, but it does seem pretty sturdy.
Overall, I think these are just fantastic if you have a puzzle lover on your gift list or enjoy doing them as a family.  The downside for me is the range of pictures. I'd prefer more variety, maybe a coffee cup for the kitchen, or simply more nature scenes rather than Disney pictures, but one step at a time, I suppose. These will definitely have mass market appeal, and if they do well, perhaps Mega Puzzles will bring out more imaginative pieces, similar to the Hot Air Balloons.