Tiddley Pom Massage Oil And Baby Wash Review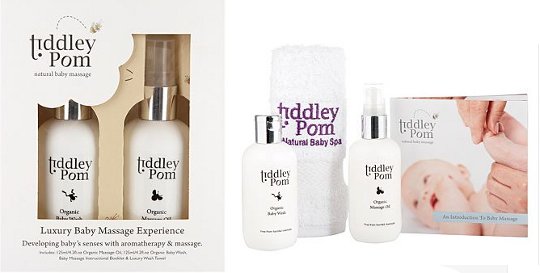 When I'm not huddled over a computer screen at PlayPennies HQ, I'm also a qualified Baby Massage teacher, so whenever products for use with babies come in, I feel a bit nervous because in truth, I'm going to be more critical of the product than the average user.
When I received a beautiful gift set of Tiddley Pom Organic Baby Massage Oil and Organic Baby Wash, I had the same nervousness, but I was pleasantly surprised by some of it.
The set is lovely. It would really make a nice gift.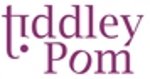 It comes in a simple understated box with a 'window' so that you can see the product. The pictures have a bee and honeycomb design which is very pretty.    It also has a white cotton washcloth and a booklet on basic baby massage strokes.  The booklet includes a basic introduction with an 11 – 15 minute massage sequence.
Looking at the Tiddley Pom website is confusing, because this gift set is specifically made for Debenhams and not only is the packaging different but the product differs too! But, saying that, the washcloth I received is a plain white cloth, whereas the one you can buy online from Debenhams (£15) has a large Tiddley Pom logo on it.
The baby massage oil is also different. I was really pleased when I looked at the ingredients on the bottle I have and found it contained only organic sunflower oil and sunflower seed oil. When I teach baby massage, I use an organic sunflower oil as it is the least likely to cause reactions in small babies. It is the most hypoallergenic, and it doesn't have much of a smell. I think it's brilliant that a company would use these with no added anything else. In fact, if I was asked by a massage client what massage oil to buy someone for gift, this is the product I would recommend.
The massage oil on their own site is different and contains a bunch of other ingredients, but this one available at Debenhams is fantastic. It's a wonderful oil, it absorbs quickly, it leaves no residue, and it leaves both my daughter's and my skin feeling soft and smooth. It's lovely.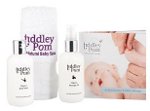 The massage oil comes in a spray bottle, which is really convenient and when this is finished, I'll fill it up again. I can't tell  you how many of my sheets have oil stains on because of bottles that have tipped over. With this spray release I can just drop the bottle onto the bed and carry on – no mess, no stains. Perfect.
The Baby Wash is organic and it is dermatologically tested to be suitable for sensitive skins. Unfortunately it made my daughter's skin all blotchy and red as most products do. I tried it on my two year old whose skin has become a lot more resilient and she had no reaction to it. I'm happy to say that on 'normal' skins, it's probably fine, but if you have a baby with allergies, it's smart to test the product on a small patch before using it anyway.
It contains no parabens, no SLS, and no mineral oils, so that's a bonus. Scent wise it does have a very mild aroma, which is good when you're dealing with babies.  While it can be used as a shampoo and a body wash, I also squirted some in the water and it made a lot of tiny bubbles, which stuck around for long enough to play with.
The Good, The Bad and The Verdict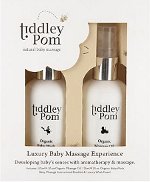 Our massage instructor used to say 'If you would put it on your salad, you can use it on your baby's skin'. This oil I would, and do use on my 7 week old. I love the bottle, and I think it makes a lovely gift. I think the shortened massage routine is great and encourages valuable and essential skin to skin and bonding between parents and babies, which can only be a good thing. Would I buy it for myself, however? Well, no, but only because I can buy organic sunflower oil at Sainsbury's for a lot less. As part of the gift set though, it's definitely worth it.
The Baby Wash is nice enough, it bubbles, it can be used as a shampoo, it smells soft and gentle and nice. I use it on my two year old, but not on my infant. Like most products, it's suitable for normal skins, but not for the actually allergic.
If I were looking for toiletries for a babyshower or newborn gift, I would definitely reach past a multitude of other products and select this one.