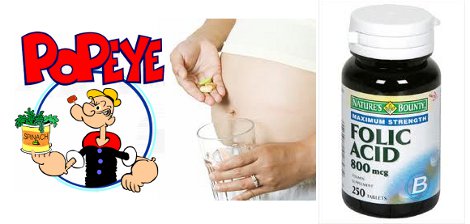 As soon as I found out I was pregnant, I went to Boots for a bottle of Folic Acid.
I need really not have worried, as I was given some at my first midwives visit, and at almost every visit thereafter. I was in hospital for a few days roundabout five months, and was fed them then, and was sent away with another bottle.
I kind of got the message that they were important. And now I know why.
Researchers have found that children whose mothers had sufficient folic acid (found naturally in green leaves) and iron supplements before and during pregnancy showed greater cognitive and motor skills when compared to children whose mothers did not receive the prenatal supplements.
According to AOL Health, the study followed 676 children in a double-blind, randomized controlled trial of micronutrient supplementation given between 1999 and 2001. Researchers followed up with the children at ages 7 to 9. The children whose mothers had received prenatal supplements of folic acid and iron showed stronger cognitive ability, higher reasoning skills, better motor skills and enhanced inhibitory control when compared to their study group peers whose mothers had not taken supplements.
The research was carried out in Nepal, but is certainly relevant to us – especially those who may not include much by way of green, leafy veg in the daily diet. And even if you do eat a bag of folic acid and iron rich spinach every day, the nutritional value is often debatable by the time it hits your plate. So really, when it comes to building a new human brain, supplements are probably the way to go.
Of course we all know how important diet and lifestyle are for a healthy pregnancy, but it's nice to see a study come up with a positive result for a change, one which confirms that we've been doing the right thing, not so?