Clinica Tissue Oil Review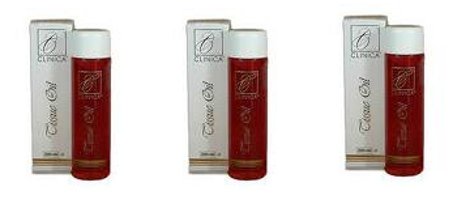 I've also been using the Clinica Tissue Oil along with the Vitamin E Cream, for the prevention of stretch marks as I ready and prepare myself for the impending arrival. I thought I should wait till I'd had my baby, then tell you how it worked, but in truth, I wouldn't know anyway, would I? If I only have one mark, would I have had five had I not been using it? There's no way to tell, so I'll just tell you about the product and what I think of it.
As with the Vitamin E Cream, the bottle the Tissue Oil comes in really looks like a professional product you'd expect to pay a lot more for than you do. It is a large bottle, and I'm pretty sure there's enough in there to last my whole pregnancy. I've been using it for five weeks already, I've not yet used a quarter of the bottle.
The Tissue Oil has a lovely fragrance, sort of cinnamon-esque, although my husband says he can't smell cinnamon at all! The product aside, I do like the belly 'massage' twice a day, it kind of feels a bit like bonding time with my unborn child.
My skin feels smooth and moisturised, replenished and most of all, ready for what's coming.  I'm not sure that any oil can truly prevent all stretch marks, but I do think it can go a long way in helping and getting the circulation going can't hurt either.
Despite being an oil, I think the Clinica Tissue Oil absorbs really well, and I'd even go so far as to use the words 'silky smooth' to describe how my belly and hands feel after use.
Clinica say that you can use this oil as an after sun treatment, a bath oil, and a therapeutic skin treatment, as the vitamin E and other ingredients used as meant to have healing properties.
Considering what you pay for this, and how long it lasts, I think it's a great product and will keep using it during and probably after my pregnancy.