Cheap Pregnancy Tests V Expensive Pregnancy Tests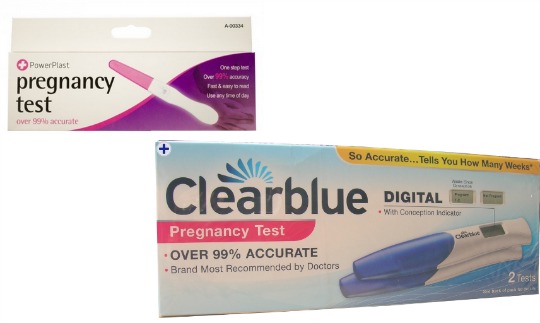 Yesterday, upon reading one of the rags (newspapers) I saw that Poundland Founder Steve Smith disclosed that the Powerplast Pregnancy Test, that costs just £1, is their biggest seller on poundshop.com. That got me thinking about what pregnancy tests I have used in the past, which ones failed to provide me with the correct result and which ones worked a treat. (I have three kids so I have gone through many pregnancy tests in my time).
We know that the test work on the amount of HCG in your urine so to get the right results you must try and do it when your urine is at it's most concentrated, which is in the morning. This isn't a must for all tests but it is the best way as you cannot predict the sensitivity of your test.
Please note this is my personal experience with tests and you can share yours over on our Facebook page.
With my second son, I took a Boots Pregnancy Test*  (£3.99) FIVE days before my period was due. The result was a faint positive. As it was faint, I am sure a lot of you have gone through this, I didn't believe the result and subsequently bought Suresign Pregnancy Test* (99p) and Superdrug Pregnancy Test* (£3,49) which both showed a negative result. I decided I needed it spelling out whether I was or wasn't pregnant so I used a Clearblue Digital* one that told me I was indeed pregnant.
My conclusion is that it's pot luck which test will show you a positive first and the price bears no significance.