Celebaby: Posh Is Just A Normal Mum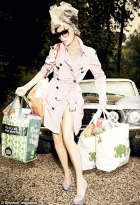 ... or so she says.
Mrs Beckham, interviewed and photographed in the US issue of Glamour magazine, reckons she's just a normal mum to sons Brooklyn, Romeo and Cruz.
Posing with a puppy and making like a 50's housewife for the photo-shoot, Posh says her life revolves around the kids when she's at home. Her life as a Mum includes popping into the boys' school to read to the class or help serve lunch. Sounds pretty normal and down-to-earth to me, although I'd wager that she doesn't mop her own floors or clean the loos though, eh? And if she does, I wonder if she keeps those heels firmly in place.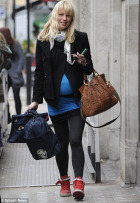 Meanwhile normal Mum and Radio 1 DJ Sara Cox has been chatting to Closer magazine about her pregnancy and its impact on her body.
Despite craving Wispa Golds and egg mayo sarnies, her mind is already on losing the extra baby pounds. Refreshingly, she claims not to be in any great rush though, and says was still in maternity jeans for months after the births of her other two children.
Now that's what I call a real Mum.