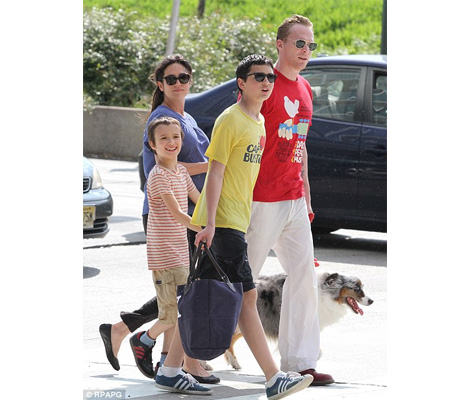 You don't hear much about Paul Bettany; the A Beautiful Mind and Wimbeldon star tends to keep his private life to himself and you're very unlikely to read scandalous headlines about him
This isn't one of those times either - he's recently welcomed his first daughter into the world with his wife, and co-star in A Beautiful Mind, Jennifer Connelly.
Agnes Lark was born in water at their Los Angeles home on May 31 and Jennifer's spokesperson released a statement saying, "Everyone is fit and well; the family are very excited."
Paul and Jennifer already have a seven-year-old son, Stellan, and Jennifer has a 13-year-old boy from a previous relationship.
Way back in January Jennifer spoke to David Letterman about the morning sickness she was suffering with.
"'It was ... like cell phone service sketchy. You know how you have your cell phone service and you have to stand in one spot. I have to stand in one spot in my apartment to make a phone call.
'It was like that with nausea. I had to stand in one spot, which happened to be in front of my refrigerator, which was open with me dipping pretzels in cream cheese and stuffing them in my mouth."
I can SO relate to that!  I suffered from morning sickness with all of my children, it was always the first pregnancy give away sign and the ONLY way to make it stop was to EAT!
I know, it sounds bizarre that if you feel sick you eat to feel better rather than the opposite being true.  It wasn't pretzels dipped in cream cheese for me though, it was sardines toasted on muffins; YUM!
I might have to revisit that particular taste sensation now, I wonder if it'll be the same when not pregnant?  It's not something I've eaten since.
I also had my youngest at home and I'd thoroughly recommend a home birth to anyone who's medically cleared to have one.
Did you have/are having any strange pregnancy taste combinations that were excellent for keeping morning sickness at bay?  If you did, why don't you share them with us!