Lillipops Morning Sickness Pops Review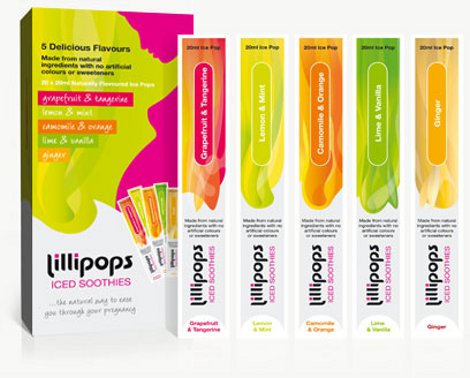 Pregnancy is great news and exciting times and all, but especially in the first trimester, it's not always fun and games.  Not everyone has that pregnant glow for good reasons – for some of us it's all the feeling grotty that gives us a sweaty complexion!  If you suffer from nausea, dry mouth, indigestion, and heart burn during pregnancy (or even during something like chemotherapy, apparently) then let me introduce Lillipops, which have been shown to be effective in 95% of cases.
Lillipops are naturally flavoured ice pops, free from artificial colours and flavourings, they ease the nausea of the first trimester, and help keep you hydrated.   Lillipops come in five flavours: Lemon & Mint, Grapefruit & Tangerine, Ginger, Lime & Vanilla and Camomile & Orange.
I have a condition called Hyperemesis Gravidarum which means that for much of my pregnancy, I can't keep anything down. Founder of Lillipops, Denise Soden, also struggled with sickness, and like me was hospitalised for dehydration, until she discovered ice and how it helped her stay hydrated.
Of course, you absolutely could make something similar yourself, but I must admit that after three weeks of not eating anything, I don't really want to be standing in the kitchen crushing mint or squeezing lemons. Having these in the freezer, ready to go, is really useful.
The sachets are a great size - you can always have a second one, but don't want to throw left overs if they're too big.  If I have to go out they're also really convenient to take along, and if I have to pop one in a friend's freezer again, it's no big deal if it helps with the nausea!
The flavours are lovely, and especially early on, I can definitely agree that sucking on a Lillipops icey while cooking dinner, for example, helped curbsome of the sickness. Unfortunately when the real sickness kicked in for me, even the smell or taste of water made me sick, so I had to stop using them, but I look forward to the end of the pregnancy and turning to Lillipops to counteract the heartburn too.
There's a great Lillipops video review where a mum with 'normal' morning sickness shares her experience too.