QuickSmart Backpack Stroller Review
It's always handy to have a member of our writing team expecting a baby or having one of toddler/stroller age - I'm pretty sure my teenagers, or almost six-year-old, wouldn't have been very impressed being used as oversized testers - so when the QuickSmart Backpack stroller landed in the PlayPennies office it was duly sent home with Luschka for some thorough testing.
The QuickSmart Backpack stroller is a stroller lightweight, weighing in at just 11 pounds, and has been designed to fold up into a backpack in just four steps. Taller parents have been taken into account too with regard to the QuickSmart Backpack stroller's handle height, it has an extra high backrest for its passengers as well.
Here's how Luschka got on with it...
"This is a very interesting pushchair and before you buy it, I think it's really important that you know what you want from a pushchair because," she continues, "while you could end up absolutely loving it, you could also end up very disappointed."
According to Lusckha, if you're looking for a monster-truck travel system, the QuickSmart Backpack stroller will NOT be for you. If you're looking for something to carry all your shopping home in,  the QuickSmart Backpack stroller will NOT be for you.
If you're looking for something that convert with your car seat,  the QuickSmart Backpack stroller will still NOT be for you and if you want something that's got all the latest greatest gadgets, look elsewhere because the Quicksmart Backpack stroller will NOT be for you!
However, should you be in the market for a stroller that's compact, light and easy then REJOICE!  If you want something functional, out the way, for your child to sit in from time to time, then HURRAH!  If you want something that fits in with an active lifestyle, then YIPPEEE the QuickSmart Backpack stroller may very well be for you!
The QuickSmart Backpack stroller comes ready assembled and folded, all you have to do is fold it out - which is supposed to be very simple and easy.
""For the most part this was easy," explains Lushcka, " just click, click, click and the right bits are extended and locked into place. I did have to look at the instructions to see how to unfold the chair portion and found that awkward as you need two hands to push the opposing buttons in, but also need a hand to pull the chair outward. Once I'd done it once, it was easy though."
The QuickSmart Backpack stroller is suitable for little ones aged six months or older because it doesn't recline and has a maximum passenger weight of 45lbs (almost 20.5kgs), perhaps now is the time to tell you that it retails for £120 so you can get over the shock whilst you read on.
The QuickSmart Backpack stroller has a five-point safety harness that kept Luschka's two-year-old daughter stumped - she didn't manage to undo it, "...something that is always a good thing," says Luschka, and she's right!  There's nothing better than having a smart child, but there are few things more infuriating, and worrying, than them perfecting the art of undoing safety harnesses.
Luschka goes on to explain that the sun canopy goes far enough down to provide adequate shade from the sun and can be pushed back flat against the pram when it's not needed.  There's no shopping basket either, but there is a small pocket at the back for a few small items.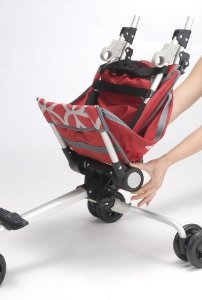 "Technically," Luschka points out, "I suppose if you are using the stroller then the backpack is empty and you could put your goods in that instead." 
The handle isn't adjustable and is quite high, remember I said the QuickSmart Backpack stroller people had taken taller parents into account?  Luschka is quite tall and thinks the handle height is fantastic, "...it's one of the few strollers I've not had to bend or hunch forward to push."
What really won Luschka over was the QuickSmart Backpack stroller's size when it was folded down as she had recently tried out another pushchair and said it was HUGE, "It took up the entire back seat of our Vauxhall Zaphira and had to be dismantled each time we got in or out the car," she explains.  "This is simple as 1-2-3-4 done and it's folded up; it fits snuggly behind the seat of the car (rendering that chair unusable for anything other than a rear facing carseat, but the other two open for use), alternatively it fits in the boot of the car and is smaller than a hand luggage suitcase."
This tiny folded down size, and it being smaller than current hand luggage restrictions, is one of the reasons why existing QuickSmart Backpack stroller owners love theirs so much.
And finally...
I asked Luschka whether she thought the QuickSmart Backpack stroller was something really useful or more of a gimmick within the stroller market; to conclude, here's what she says...
"If you're going to be doing a lot of walking where your tot might want rest breaks, for example day trips to the zoo, or a museum or a day spent sightseeing, then it's great.  Because it is so lightweight, if you had to carry it up and down stairs then it wouldn't be the end of the world.  My daughter loves walking and running, but gets tired: this is when it's absolutely ideal."
Luschka also thinks it's a perfect airport stroller, "You can take it right to the plane with you, then wrap it up in its bag keeping it secure and safe until you can collect it again."
I regularly fly and without fail see parents queued up by the Baggage Query desk with broken or damaged strollers in hand - to be able to avoid all the hassle of this would, I'm sure, more than compensate for the rather hefty £120 price tag (you'd forgotten about that hadn't you).
Luschka feels that the QuickSmart Backpack stroller sits at the luxury end of the stroller market as there are MUCH cheaper strollers available (although none of them fold into a backpack), however, if you don't intend to buy a massive all-singing-all-dancing travel system then she very much believes it makes a nice stepping stone between a sling or carrier and walking or cycling.
Final score, pros and cons
Pros - lightweight, compact, easy to carry, folds up, long handle for taller parents and is conforms to current hand luggage sizes
Cons - expensive, doesn't recline, doesn't have a shopping basket and has very few additional features found on other strollers
Overall score - this is a tricky one; if you want a stroller that does everything the QuickSmart Backpack stroller does then it will have a GREAT score (let's say 8 out of 10) but if you want all the things it doesn't do and have then its score won't be so hot (let's say 4 out of 10).
So as Luschka said right at the very beginning, you must be very sure of what you want from a stroller before you rush out and buy this one; get it wrong and you'll be very disappointed, get it right though and you're going to thrilled.
If you want to see the QuickSmart Backpack stroller in action then you're in luck - click HERE to see it unfold in front of your very eyes on youTube.
QuickSmart Backpack strollers are available to buy in Amazon.