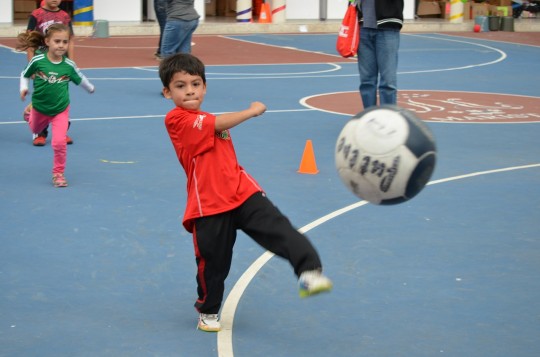 A teenage girl has spoken out about the verbal abuse she has received whilst refereeing a football match for under-eights.
The Guardian reports:
Emily Dyke, 14, considered quitting after she was abused by adults during two consecutive games, but she decided against it after writing a plea for support from the touchline.
The teenager, who also plays in midfield for Skelton United under-16s in Cleveland, is learning to officiate junior games and took charge of an under-nines match followed by the semi-final of an under-eights tournament a fortnight ago.
The paper reports that Emily was sworn at after "not allowing a goal because a shot rebounded off the bar but did not, as far as she could tell, cross the line".Hitting back against her detractors via social media, Emily wrote:
"Hello everyone. Most of you won't know who I am. I'm 14 I love football I play on a Saturday and referee whenever I can. I have recently suffered some verbal abuse from people while refereeing and have found it very difficult to deal with to the point I'm now considering not doing it anymore.

I'm not looking for sympathy or anything like that. I'm wanting people to realise that I'm just a child doing something I love. I want everyone to take a look at their children and put yourself in my shoes when the abuse is being said."

"I'm learning that to referee you need to have a thick skin [whatever that means]. And to also ignore people when stuff is said, but it's hard when the name-calling continues. I hope no one is offended by what I've said and take the time to realise I'm a child so please respect me."
We think Emily's shown grace and wisdom beyond her years in the way she has chosen to address this horrible situation, and we hope the parents who have directed abusive words at her will recognise the error of their ways.
What's your view on this story? We'd love to hear about it over on our Facebook page.