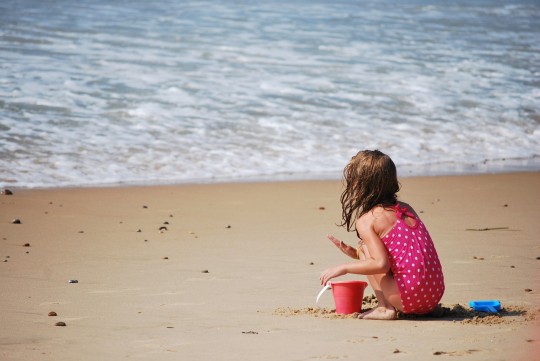 Ok, people, we're on the home stretch. You've almost made it through the school summer holidays, but it's about now that nerves start fraying and even the most resourceful of us start running out of things to do to keep the kids entertained. So I'm rolling this post back out from the archives...
Strangely, I used to dread the school holidays before my children started school. Last September my youngest started nursery at the same time that my eldest started Big School but prior to that we used to have a tightly balanced weekly routine that involved swimming lessons, mums and toddler groups and playgroup, and I never understood why all those activities for pre-schoolers would grind to a halt during the school holidays. It seemed kind of cruel at the time, but I now realise it's probably to allow parents a well-earned break, especially in case of them having older children.
But when my boys were fully ensconced in the school routine, I'd been looking forward to the holidays for weeks. I'd been delighted at the prospect of not having to wash uniforms, make packed lunches, or supervise homework. I couldn't wait to abandon the pressure of the morning routine and the school run in favour of lounging in our PJ's still lunchtime. And best of all I was looking forward to a more relaxed pace of life, with days spent on the beach or in the playpark, instead of regimented round the clock.
But once the holidays struck, they didn't quite live up to my expectations. Unused to spending hours at home together, my boys started squabbling much more than usual, and the house turned into a tip almost overnight. Without my child-free hours to dedicate to work, I struggled to make the transition from working mum to full-time parent, and ended up snappy and short-tempered. I knew something had to change when I found myself hiding in the bathroom, drowning out the whining and hoping no-one would track me down for at least three peaceful minutes. At that point, I decided to take charge and ensure we have a summer of fun instead of nine long weeks of misery, so here are my top five tips for summer fun:
1. Clear out the toys.
In my experience, the more stuff children have to play with, the harder they find it to know what to play with. Getting rid of all the broken stuff or toys that my boys have grown out of and paring their bounty back to a few beloved items rather than piles of junk has really helped them get into the groove of playing together at home. They get so used to the structure and routine of school that having completely free reign at home can actually be really hard for them to handle. Try setting up an art table or a train set or wendy house - anything that looks inviting and encourages them to start playing instead of sitting around squabbling or moaning that they're bored.
2. Make one good investment.
For less than a tenner each I bought my boys a superhero costume as their summer holiday play treat. It's the very first thing they look for when they open their eyes in the morning, and ensures hours of cheap, imaginative playtime. They know this is my treat to them for the summer so they won't beg for toys every time we go to Asda, but the novelty value of something new helped inject new life into their play. It doesn't have to be pricy and it can even be something you make together, but somehow setting something up as THE summer holiday play item helps focus their attention when they're kicking their heels and trying to work out how to spend all that free time that they're not used to.
3. Get outside.
We have a 10 o'clock rule in our house. We have to have left the house every day by 10am. Generally we just go for a walk into town or to the beach and my boys ride their bikes and dress themselves (in the superhero costumes, naturally) so getting out of the house in the morning is still a leisurely affair, but I find that getting up and out, having some exercise and some fresh air stops them going stir crazy. They're usually well in need of a rest and some down-time when we get home which makes for a relaxed lunch, and after that they're usually raring to go again, but it just splits the day up and stops us all having cabin fever.
4. Take some time to think about what you want out of the (rest of the) holidays.
Personally, when late August rolls around I want to know that I've spent some serious time bonding and having fun with my boys. I want them to remember me hanging out with them during the holidays, not getting bogged down with housework or juggling my workload. It takes some serious commitment to follow through on those intentions, but writing them down and even talking about them as a family can help crystallize your sense of what's important to you all. Remember all those things you thought you'd do during the summer hols? There's still time to pick one or two and send the summer out with a bang.
5. Get creative.
Even if a holiday isn't in your budget this year, you can still have plenty of fun on your very own Staycation. Sleep in a tent in the backgarden, embark on a family art project or make Friday night picnic time, whatever the weather. It's amazingly easy to create fantastic family memories even on the tightest of budgets - it just takes some thought and planning, so dream big. Make a pot of tea, sit down with your calendar and a notebook and plan in some top notch family fun before the last few days of freedom run away with you.
Above all else, enjoy your family time! The summer can be a really stressful time and tempers can all too easily get frayed but if you prioritise even ten minutes for yourself every single day, you'll find your capacity increases and you'll have more energy to direct everyone else towards fun-filled family time.
It doesn't matter whether you sit with a pot of tea in the garden before everyone else is up, or soak in the bath with a glass of wine at the end of the day - just remember that parents are people too, and if you take care of yourself this summer, you'll have more energy for taking care of everyone else.