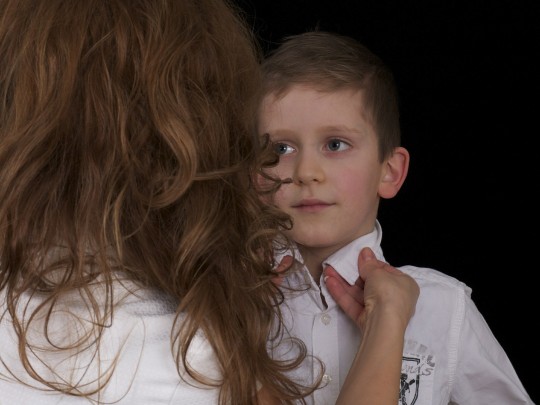 Have you read 'A letter to my ten-year-old son... who needs to hear a few home truths' which has been doing the rounds on social media since the weekend?
It appeared in the Guardian as part of their 'A letter to...' series wherein a reader submits a letter to a family member. And it's fair to say it's provoked quite a reaction online.
The mum who penned the letter wrote:
This morning we fell out because I asked you to tidy up after yourself and you spoke to me in a very rude and aggressive manner. When I said that you couldn't speak to me that way because I am your mother, you seemed to feel I didn't really deserve your respect. It hit me that perhaps you aren't aware why you should show your mother respect. So I thought I'd take the time to explain.
After that she lists the sacrifices she's made for her son - everything from carrying him two weeks past her due date and breastfeeding him to toilet-training him and "washing trousers that you decided to pee in regardless". She argues that she's deserving of her son's respect not because of all the things she's done for him but because of the choices they reflect; that she's made his needs her priority, often at the expense of her own, because she has his best interests at heart.
"I don't mind," she repeats several times, adding that her "payment" has been "the privilege and joy" of having him as her son. But critics say she doesn't make it sound as though she's found motherhood all that joyful, and one particularly harsh commenter described the letter as an exercise in passive-aggressive parental resentment.
But I'm torn on this; I 'get' the sentiment of everyone who's clutched at their pearls over this letter - it does seems unreasonable to expect our kids to grasp - let alone actually appreciate - the sacrifices that parents make for their kids - but I also feel for the mother. She's written an honest, heart-felt letter on her own perspective of parenthood, and the vitriol directed towards her online seems totally overzealous and disproportionate.
I'm not sure that the choices I've made for my kids do actually 'earn' me the right to be respected by my kids though, either. As I am currently learning with my own ten-year-old, respect is something even parents have to earn. Lecturing my kids about the sacrifices I make for them (and to my shame I do catch myself ranting on this theme from time to time...) might guilt-trip them into showing me respect, but I don't think that's the same thing as them actually feeling respect towards me.
And what if this mum hadn't breastfed, or had a natural delivery, or home-made her son's first foods? I don't think she means to imply that she'd be in any way less deserving of his respect had she made different, easier or more convenient choices - her point is that making decisions for your kids which put their best interests ahead of your own - loving them, in other words - is worthy of respect. But is it? Others say that's 'just' parenthood, and we shouldn't be looking for medals simply for being mums.
What's your view on this letter? Do you relate to the sentiment that this mum is trying to convey to her son, or do you think it's unfair to hold up the sacrifices we make for our kids as reasons why we deserve their respect?