Oat So Simple Quaker Morning Bars Review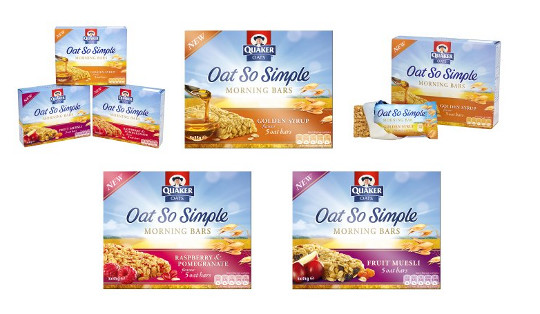 I'm not a huge breakfast person. I know you should have breakfast, and I know it's good  for you, and I know it's better for weight management and all those things, but when I sit down to a bowl of cereal, oats or even a cooked breakfast, it feels like an insurmountable effort. Unfortunately, by 10am I'm so hungry I could eat my own kids (not really), which is pretty frowned on by most, so when I was given two boxes of Quaker Oats Morning Bars to take home, I thought it was definitely worth a try.
The Oat So Simple  Morning Bar Golden Syrup*(£2.19, but Tesco has them on offer at 2 for £3 at the moment) was fantastically yummy. It was gooey and yummy without being overly sticky - they are sticky but there's no running syrup or anything.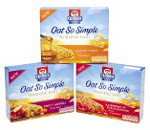 More than half the bar consists of oats, with glucose syrup, cereal, sugar and vegetable oil making up most of the rest (there's more, like the 3% golden syrup) but those are the biggest ones.
I absolutely loved the Golden Syrup bars for flavour, they reminded me of a boiled sweet my dad used to make when I was a child, a deep sugared caramalised flavour. Honestly, to me it's more of a desert than a breakfast! It is very sweet though, so maybe not just to me. They contain 142 calories, which makes up about 7% of an adults daily guideline amount.
The bars hold together very well too, despite the abuse they receive in the bottom of my handbag. I found one bar in the bottom of my handbag two months after I put it in there, and the packaging was still sealed, and the bar was still good, if a little squashed.
There are two other flavours - Fruit Meusli and Raspberry and Pomegranate - which sounds amazing, since I love Pomegranates! The Fruit Meusli bars contain the least calories at 139 per bar, and the Raspberry and Pomegranate come in second with 141.
Oat So Simple Morning Bars are slightly larger than your average morning bar, and they should help with keeping things regular, being rolled oats and all.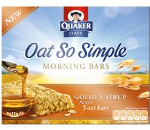 I did find these bars really useful to have in my handbag for when my daughter got hungry while we were out an about doing Christmas shopping, and I myself quite liked having snacks on hand. It saved buying something at the time, so it was definitely money saving, but saying that, while it does stop you wanting to chew your own fingers, it's not wholly satisfying. One bar isn't going to replace lunch.
If you have problem teeth you might struggle with it too because I found the oats got stuck in a tooth I'm waiting to get a crown one and it did stick to my teeth a little. It was worth it though - it was tasty and I'm sure less fattening than the sweets my dad used to make.
The Good
These bars are really convenient to have on hand, both for children and mummies.
They are great for staving off starvation, and while I wouldn't call them a meal replacement, they are lower in unhealthy stuff than most fast foods or snacks, so would make 'in the meantime' snacks.
The bars are very tasty.  Especially the Golden Syrup.
Packaging on these is pretty hardy. It withstood quite a lot of abuse in my handbag!
The Bad
I don't think these are the healthiest breakfast you can find, by a long shot. The glucose is going to give most normal people a bit of a sugar spike, which I think makes you hungrier afterwards, and makes your blood sugar spike which isn't great.  They're not the most unhealthy thing you could reach for when your tummy rumbles, but they're not the healthiest either.
The oats get stuck in my teeth.
It would work out quite pricey if you had these regularly.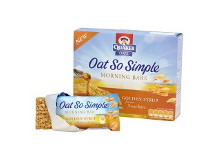 The Verdict
As I've said above, I think Quaker Oat bars are great for emergencies, as gap stoppers for hungry tummies, and as occasional 'on the go' foods. There's no harm in keeping some on hand, but it wouldn't be a regular breakfast for me. They are yummy though, there's no doubting that.