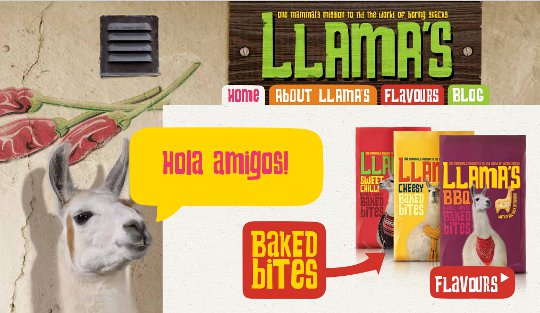 We were sent two packs of Llama Snacks to review and tell you about, so I'm about to regale you with tales of snack food. Trust me: It's worth it!
Llama Snacks are baked, whole wheat biscuits shaped like the South American Llama – although this was totally lost on my two year old who insists that they are giraffes, a fair enough misunderstanding, I suppose.
They come in three flavours: Cheese, BBQ and Sweet Chilli and are available from over 850 Tesco stores around the country for £1.69 (although they're currently available from Tesco Direct for 2 for £3.)
Nutritionally speaking, they're not exactly like eating celery sticks, but then they don't taste like celery sticks either. They are really tasty, and as compared to some biscuits that lose flavour once the seasoning comes off (and lies like a powder in the bottom of the packet), these retain their flavour all the way down your throat. With a sixth of the bag containing 100 calories – similar to a large apple – they'd make a nice treat for the lunch box, especially since only 0.1g of it is sodium, making the salt intake 5% of your RDA. (Compared to i.e. Walkers crisps that have 0.5g to 1g per small packet.)
They're still not a truly healthy snack, but a quick look at the ingredients and nutritional information certainly makes them seem healthier than many other alternatives.
They also have a resealable sticker, so you can open the bag, take out a lunchable portion and seal it up again for tomorrow. To be honest, we opened a bag and decimated it between three of us, but the second bag we had about half of, sealed up again and had the rest of the next day and they were perfectly crisp and fine.  Of course, they are biscuits, so when I found some leftovers in my daughters bowl squirreled away in her play tent the next morning, the were a bit soft and soggy.
We tried the BBQ and Sweet Chilli flavours, and loved both.
I started with the Sweet Chilli and didn't really think my two year old would like them. I found them to be more sweet than chilli, and even the two year old gobbled them down and kept coming back for more.
Not being a fan of the standard BBQ flavouring, I wasn't overly excited about the prospect of a packet full of BBQ flavoured biscuits, but they are honestly divine. I found them to be slightly more spicy than the sweet chilli and again, didn't expect them to go down too well as a toddler snack, but she loved them too. I think they'd also go exceptionally well with some cream cheese or something similar, but it's really not necessary.

In fact, when we finished them, she insisted that I had to go to the shop and buy more giraffe biscuits, so they certainly get her vote.
The Good
They are super tasty
They are quite filling, so could make a good backup for on the go
They stay fresh in a re-sealed packet
They have an appealing appearance
The flavour carries through the whole eating process, rather than dissolving in your mouth and becoming a flavourless biscuit before you swallow
They're a pretty decent price
The fun shape is unusual and unique and if you really wanted to stretch to find good qualities, you could call them educational as I've had to explain the difference between a llama and a giraffe to my daughter.
And on that note, the Llama is a pretty unique and funky marketing tool, and the website is quite fun and totally derogatory to 'boring snacks'.
The Bad
I wouldn't put them down as 'healthy' but they're less unhealthy than some of the other options out there
I can't think of anything else. Like most foods, I guess some will love them, some won't.
The Verdict
I love Llama Snacks. They're a fun shape and they're not dreadfully bad for you and most importantly in a snack, they're tasty.