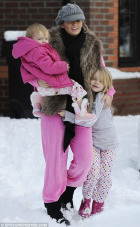 Kerry Katona is off to Fat Camp, according to today's Daily Mail. Apparently she hopes to lose three stone in two weeks of merciless exercise and healthy eating. Groo.
Daughters Heidi, Lilly-Sue and Molly will be at home with Kerry's husband, Mark, along with their son, Max while Kerry is away battling the bulge.
The former Atomic Kitten singer underwent £15,000 worth of liposuction along with a breast reduction 16 months ago, and it's said her weight-loss plans are a bid to relaunch her career, following allegations last yearv that she was taking drugs. So good Luck, Kerry, and get back home to those little people soon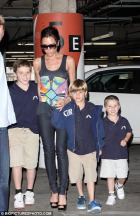 .
Meanwhile, one celebrity Mum who doesn't need to worry about fighting the flab, Victoria Beckham, has been papped (looking predictably glum) with her brood. According to UK newspaper reports, she took her boy crew to the movies in LA to see the new Disney film, The Princess and The Frog. Naturally she wore her towering heels and mammoth shades. I'm not going to make a single joke about her being a princess and Becks being a frog, nope. Although if he were a frog I'd be more than happy to oblige him with a kiss, all in the name of research, of course.