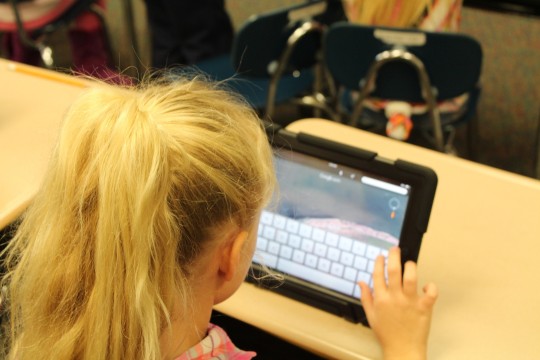 There are many things I never expected to say to my kids yet nonetheless end up muttering in a moment of desperation but my latest rant - 'You should thank your lucky stars you're not Kate Winslet's children!' is about my most surreal.
Why was I urging my kids to be grateful they don't have an Oscar-winning actor for a mother? Because Kate Winslet reckons she's banned her kids from using social media, and I was in the grip of threatening to implement screen bans unless the junior members of this family start getting their act together when it comes to getting ready for school in the mornings.
Hello! magazine says of Kate's social media ban:
Kate Winslet may play Apple co-founder Steve Jobs' confidante in her latest role, but in real life she is not overly fond of technology and social media. The Oscar-winning actress revealed that she has banned the use of social media in her house in an interview with the Sunday Times.
And here's what Kate said in that interview:
"Take the device out of their hand. Don't let them sleep with it. Play Monopoly. These things are not rocket science. Do drawing games."
Given that Kate's kids are 15, 11 and 22 months, banning social media altogether seems like quite the accomplishment.
Vanessa Feltz, writing for the Express takes that one step further. She writes:
We know the drill by now: as a child's bottom makes contact with a chair, mum or dad immediately thrusts phone, iPad or iPod into his outstretched hand. Technology has become a round-the-clock portable baby/child/teen-sitter, everpresent, always gratefully received, endlessly and infinitely fascinating.

Feltz reckons as parents we're 'palming off' our kids with technology as a first option for occupying them, instead of using it as a last resort. Do you agree? Are we relying too heavily on screens to keep our kids occupied and entertained, or should Kate stick to acting rather than dishing out the parenting advice? We'd love to hear your thoughts on this over on our Facebook page.