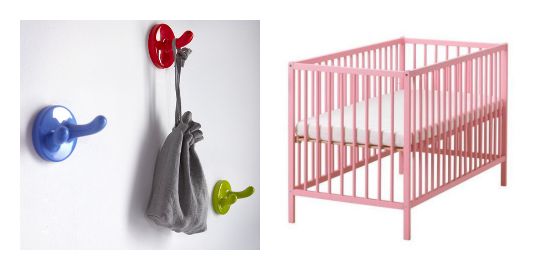 This is an upsetting story, but parents have been reminded by Ikea not to attach anything to babies' cots after the death of a little girl.
The Telegraph reports:
"Ikea has warned parents not to hang hooks on babies' cots after a 14-month-old died when one got caught on her pyjama top and strangled her. Violet Anderson was found hanging by her distraught mother at the family's home in Southwark, south London, on April 17 last year. Paramedics tried to save the youngster, but she died at hospital later the same day."
Despite the coroner's finding that the incident was a tragic accident, Ikea has nonetheless indicated its intention to add to the current warnings which are issued with the purchase of Ikea cots.
The parents of the little girl who died bought the plastic Krokig hooks and the flat-pack Somnat cot from Ikea online, and a spokesperson for Ikea clarified that the hooks are designed to be screwed into walls and have never been marketed or designed for use with cots.
The coroner, Sarah Ormond-Walshe, said:
"Ikea have done a very full investigation and I need to go no further then what I've heard and read today in relation to their investigation. I have been very content all along with the way Ikea have helped me investigate this case in their own investigation. There has been no other similar case at all. The hook is not part of the same product range as the cot. It's not designed to be screwed into the cot and is being sold essentially separately."

"Notwithstanding that there has been no other incident - and I do mean any incident, not just death - similar to this, Ikea have decided to add on some words in the way of a warning in relation to the cots that say, 'Do not attach, stick or add any items. They may become a catch hazard which may result in injury to your baby'."
To find out more about safe sleeping for babies and young children, visit the Lullaby Trust and in particular this page about safer sleep.