Celebaby: More Preggars Celebs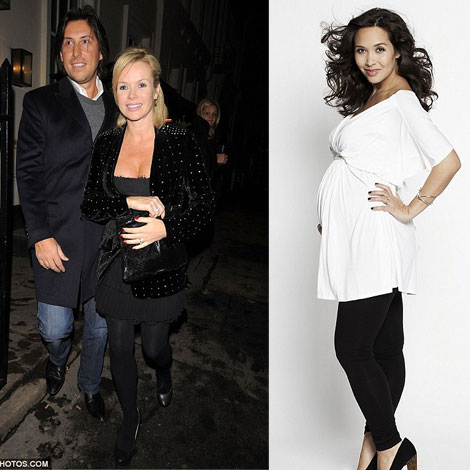 I was going to write about Jordan but then I just couldn't be bothered, so instead here are some more preggo celebrities - much more interesting (well, maybe just a little bit. 'Much' might be a little bit of an exaggeration!)
Myleene Klass
Yes, I know we already knew she was up the duff but I just want to rejoice in the fact that, at six months gone now, she's already put on three stone. YIPPEEEE!
I know it's catty and I don't care - if she's piled the pounds on already then there'll be lots more still to come.  This only makes me happy because, with every single one of my three pregnancies, I always ended up enormous *shudder, thank goodness never again!*
However, I'm sure that within half an hour of giving birth she'll be back to normal celebrity size and insisting she hasn't done any exercise or been on a diet.
Victoria Beckham
She's expecting baby number four.  I'm not fussed about VB either way and couldn't really care less what she gets up to, but I really do hope she has a little girl this time.
There are rumours that sex selection (available in the States) might have been deployed but there is absolutely NO substance to this and really, who cares?!  Would the world really stop turning if they had, I don't think so.
Amanda Holden
Now this one came as a bit of a surprise over Crimbo and New Year! Amanda had been photographed at various events for months, looking very slim in tight-fitting evening dresses, then all of a sudden 'Hey everyone, I'm six months pregnant'.
In the photos that I saw during the festive hols, she didn't look any different from one to the other - HOW did do that?!
Everyone here at PPs HQ wishes these celeb' mummies all the best (even Myleene as long as she puts on another three stone *grin*)