Celebaby: Now There's Something You Don't See Everyday!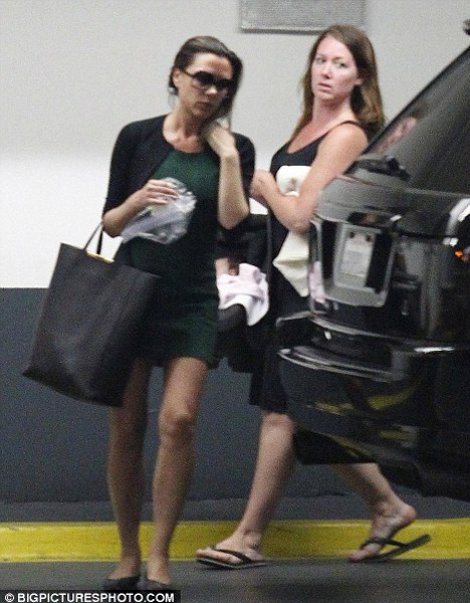 I thought we stand more chance of seeing flying pigs than ever seeing Victoria Beckham wearing flat shoes, but just such images have been doing the  media rounds this week.
Having emerged from the Steven Spielberg mansion, where the Beckhams have been staying since Harper Seven was born, we've learned a few things.
1) Victoria's been suffering from a slipped disc - ouch!
2) Doctors warn women NOT to continue wearing skyscrapper heels right throughout pregnancy - which she did.
3) She's not been able to pick up Harper and has been having a pretty miserable time of it.
So we can hardly blame her for looking less than her usual non-smiling self when she was pictured out and about en route to a business meeting.
Apparently she cannot walk far - and having known a few people suffer from slipped discs, this will have been agony - and doctors have told Victoria that she cannot risk wearing high heels and must rest, a LOT.
Despite all this, both Mr and Mrs Beckham are clearly infatuated with their new daughter.
Victoria has tweeted, "Thank u for your kind messages. I'm feeling much better and enjoying every precious minute with baby Harper. I' m so in love. X VB"
Whilst David has spoken about breastfeeding, "It's so important that they have that mother daughter bond and breastfeeding I think is really an incredible thing. We're in the process of putting it in bottles now so that means I get to feed her – which has been amazing!"
Victoria is said to be under the close observation by several doctors who have advised no walking, bending or lifting of heavy objects.
The bending and lifting bit is fairly simple to get around, if you have lots of help, but NO walking - especially when she needs to be in Los Angeles to showcase her Spring/Summer 2012 range at the LA Fashion Week - could prove to be more tricky!
Like, love or loathe her, here's hoping she gets better soon - living with severe and constant back pain is a miserable way to live.