Celebaby: Brook And Beckham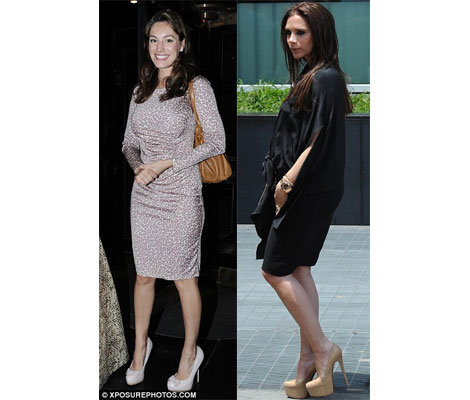 It's all a bit quiet in the la-la land of Celebaby at the moment - there's lots of waiting for new arrivals with not much else going on.
Gwen Steffani is still taking the boys to the playground and pushing them on swings, Elle McPherson wore skin tight red leather trousers on the school run (well if you had her body, wouldn't YOU?) and Abbey Clancey took 10-week-old Sophia to watch her dad, Peter Crouch, play football on Saturday.
Kelly Brook Braves The Cameras
After the devestating news was released that Kelly Brook lost her baby daughter earlier, she's braved the inevitable cameras which were waiting for her the moment she stepped out of her house.
She was 'papped' grocery shopping near her home and also on a night out with friends.
Ever dignified, she smiled nicely for the photographers and I hope as a result, of her 'cooperation' they continue to treat her with the respect she deserves.
Victoria Beckham
She's reportedly already booked a c-section for the delivery of her daughter sometime in July; I REALLY hope the arrival of a little girl in the Beckham household puts a smile on her face, I really do.
Seriously, could she LOOK any more miserable?!  For goodness sake Victoria, put a smile on your face.
Perhaps if she abandoned the black tent outfits and wore something a little more relaxed and summery, she might not look as though the world is about to end.
She was photographed looking more and more like an ill and grumpy Morticia when she attended a bash which saw, her manager, Simon Fuller receive a star on the Hollywood Walk of Fame.
Victoria has six weeks, or so, left before  she becomes a mum for the fourth time; what's the betting we'll see lots of shots of a beaming David while Victoria just looks pouty at best.