Celebaby: Priness Catherine: I'm A Mummy In Waiting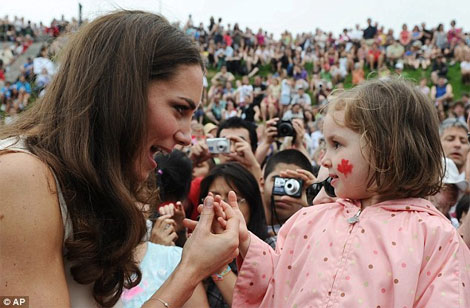 Well it didn't take long did it!
Yesterday the press was awash with headlines that went along the lines of, "Kate can't wait to be a mum," or, "Princess Catherine tells of her desire to start a family," and "I'm a mummy in waiting!"
Having scouted around a fair bit, it would seem that all she said was, "Yes, I hope to," when a man in the crowd wished her luck in starting her own family after commenting on how beautiful his two-year-old daughter was.
Expect tummy watchers to be on full alert from now until the day her royal pregnancy is announced - imagine if both her and William decided to NOT have any kids!
Apparently the usual timetable for newly-wed Royal baby machines brides is to produce an heir to the throne 11 months after the wedding, so notes have, I'm sure, been pencilled into calendars for April 2012.
Beckham Baby Rumour
Yesterday was American Independence Day and Twitter went mad with rumours that the Beckham's baby daughter had arrived.
If you believed what you read then she weighed 5lbs 8ozs and had been named Felicity, which is better than the Santa baby name rumour that was flying around a while ago!
However, a Beckham spokesperson released the following statement...
"The rumours are rubbish, Victoria has not had the baby but she will be giving birth soon."
Then David's publicist took to Twitter and said...
"Contrary to certain reports, David and Victoria Beckham's baby is not due today and that was never the case."
Apparently the c-section is booked for next week, so we'll have to wait until then for news of the young Miss Beckham's arrival; you can be sure that the media circus will have whipped themselves up into a frenzy by then.