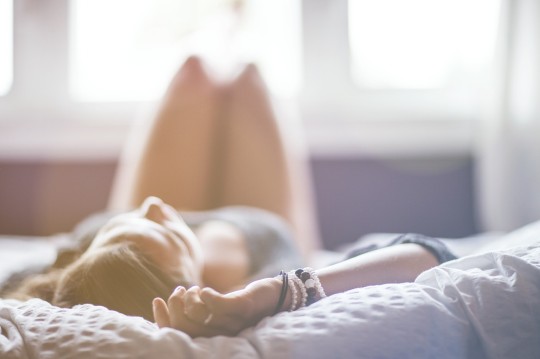 We've already shared our sun-safety tips for keeping babies and children safe and cool in a heatwave, but how are you bearing up in this heat? I know we're not supposed to complain about the fact that the sun is finally shining at long last, but even the true sun lovers amongst us can admit that there's a difference between a lovely spot of sunshine, and sweltering in Saharan temperatures.
The UK Met Office has warned that this summer is set to be the warmest in 135 years,  but experts warn that sleeping in temperatures above 24°C increases the likelihood of waking up during the night or only have a light, fragmented sleep, preventing you from getting the restful night you need. Not fun at all if you're getting up at the crack of dawn to take care of similarly sleep-deprived babies or kids who are also suffering in the heat.
But fear not - help is at hand. Silentnight sleep expert Dr Nerina Ramlakhan offered us five top tips for beating the heat and getting a decent night's kip despite the soaring temperatures.
Dr Nerina Ramlakhan says: "We all love summer and the long evenings, but the increased temperatures can make it harder to sleep well, which can have a detrimental effect on our health, relationships and work."
She added: "A good night's sleep is important in order to process information throughout the day as well as to repair and rebalance the body physically and mentally. Ideally, in order for us to sleep well, there needs to be a fractional temperature difference between our body and our brain – a warm body and a cool head!"
Close your curtains
When the sun is shining, most of us want to fling open all the curtains and blinds to let the light stream in, but that's not the best idea. Stop your bedroom over-heating during the day by keeping curtains and
blinds closed.
Cool your jets before bed
Wash your feet with cold water before getting into bed, and run your wrists under cold water. I admit that I pulled a face when I read this but I tried it last night and it really, really works. Especially the wrist thing. Clever. Or try a Chillow Pillow...!
Lighten up
It's obvious, this one, but swap your usual bedding for light bed sheets and a summer duvet - 4.5 tog is what Dr Ramlakhan recommends. (This summer duvet is just £5.99 with free delivery at Amazon right now.)
Change your mattress
Try a Geltex mattress from Silentnight - apparently they combine elastic gel and air-permeable foam to offer extra breathability, which can help to prevent bodies from overheating at night.
Turn to drink
Water, obviously. "It is essential to stay well hydrated during the day and most importantly, don't fret too much if you can't sleep. Use the time to rest and think positive thoughts, then you will be extra productive the day after," says Dr Ramlakhan.
And if none of that helps, Silentnight suggest trying these quirky tricks for keeping your cool...
1. Use a fan (this one is £35 at Amazon right now) and place it so that it is blowing the air over a tray of ice - this will cool the room down as the ice melts.
2. Keep a plant mister containing water by your bed to spray on your face during the night.
3. Place a wet flannel in the fridge for an hour or so before getting into bed and lay it on your forehead to help you drift off.
4. Sleep in cool wet socks or even a damp T-shirt
5. Chill your pillow case in the freezer before getting into bed.
For more sleep tips from sleep expert Dr Nerina visit Silentnight Sleep Toolkit.
And if you've got tips for getting some kip during the heatwave, we'd love to hear them over on our Facebook page.
With thanks to Dr Nerina Ramlakhan and Silentnight.