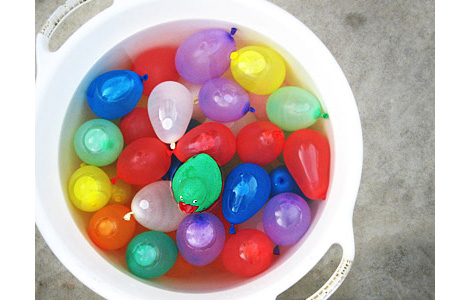 For the last few Sundays I've been bemoaning the fact that so far this summer we've had the irritating two-or-three-days-hot-sunny-weather followed by five-or-six-days-of-chilly-cloudy-weather!
Last Monday was the last decent day we had in my part of the world, my youngest will start suffering from cabin fever before too long.
However, the lovely people at the Met' Office are saying that the 'heatwave' - used in the loosest possible way, of course, as it probably only describes one day! -  is set to return next week; HURRAH! just in time for the summer holidays!
Keeping kids amused for six weeks has the potential to become very expensive, but at least when the weather's nice they can play outside in the garden and this usually means one thing  (well two things actually): sunscreen and WATER!
Playing in the garden with water in the sunshine go together like strawberrys and cream, or Pimms and lemonade when the kids have gone to bed!
But it can turn into a bit of a soggy garden-bog fest' if there isnt' some structure to it. I came across this list of fun garden water games to play with your kids this morning and already have a couple of favourites that sound awesome!
'Water Volley Ball' and 'Don't Be A Drip' are guaranteed to induce squeals of delight and have a 'mild peril' element to them too to get the adrenalin racing!
For water volley ball you just need a marker for the 'net' if you don't have one, two towels, a supply of water balloons and four players. Place the balloon in the middle of a towl and toss it over the net to the other team who have to catch it and then return it over the net.  If the opposite team don't catch the balloon and it explodes on the ground - you SCORE!
Dont' be a drip - make a little hole in a balloon (it doesn't have to a be a water balloon), fill it with water and tie a knot in the end (obviously). The aim of this game is to play catch with it and NOT be the person holding it when all the water has gone. SO simple but can you imagine the hilarity and frantic chucking of the balloon the closer it gets to being empty!
Water balloons are dead cheap - I found these over at Amazon (144 of them for £2.87) but Tesco, Asda et al are bound to do them too.  I think these garden games sound like a lot of fun and hope they  save you from a few of those 'I'm bored' summer holiday moments!
If you've got any great summer garden game ideas, drop us a line and let us know about them.