Twin Glider Seat £35 @ Wilkinsons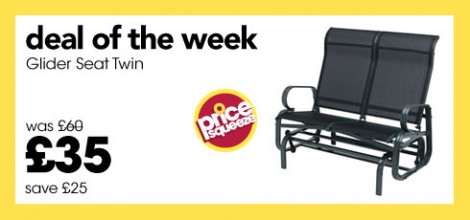 This twin glider seat for your garden, from Wilkinsons, has been reduced from £60 to £35 which makes it a bit of a swinging deal in my book. 
When it comes to garden seating that isn't static, you're either a glider seat fan or a swinging hammock fan.
When I was a kid my friends' parents used to have swings and I always thought they were cool, until my mum and dad bucked the, then, trend and bought a glider seat. It was lovely to be able to move backwards and forwards rather than swing in the usual arc.
The other thing that was GREAT about their glider seat (like this one from Wilko's) was the absence of the usual fru-fru-flowery big padded cushions. There was no more dashing out to get them all in from the garden when it started to rain unexpectedly, or the nightly ritual of packing them all away in the garage.
This glider seat will cost £4.95 for home delivery or you can collect it yourself, for free, from your local Wilko's store four days after you place your order online.
Happy gliding!