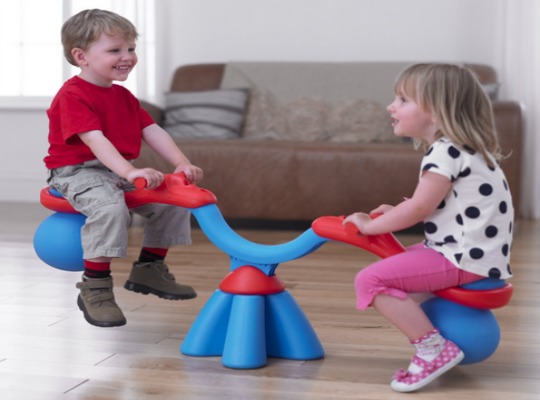 Do you ever look at toys and think  I wish they made one of these for adults? That's exactly what I thought when I spied this TP Spiro Bouncer. It's priced at just £39.69 at Amazon including FREE delivery. This would cost you £50 if you were to buy it from Debenhams, so you can see why we think the Amazon price is a great deal.
The TP Spiro Bouncer is a see saw with a difference. It has space hopper lookalike balls underneath each seat which prevent any shock up little ones backs plus make the see saw even more fun.
Not only does it provide bouncy nonsense but it can also spin 360 degrees. The beauty of this see saw is that you can use it inside too. It won't mark or knock on hard floors because of those bouncer balls.
The base is hollow and can be filled with sand for added stability and it comes with a funnel included so that you don't get sand everywhere.
I don't know about your kids but mine would go daft if I bought them one of these.