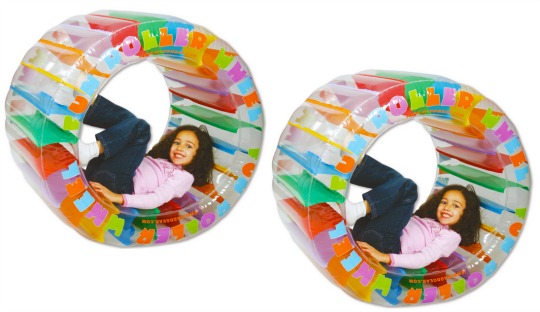 This Thumbsup Roller Wheel looks like fantastic fun. Who said hamsters get to have all the fun? Okay, so it looks like a hamster wheel for kids but you just know they will love all the nonsense they will have with this. You can get it from Amazon Seller: Buy-For-Less-Online for just £27.01 including FREE delivery. If you would prefer to buy from Amazon directly, then you can do so for just £29.07 delivered. Please note that you will need to select to purchase from Buy-For-Less-Online down the right hand side.
The Thumbsup Roller Wheel is the ideal present for the kid that has everything. Get them this to play with in the back garden or down the local park. Bear in mind that it is rather large once inflated, so you may want to transport it first, then inflate.
It is inflatable but it comes with a pump. This is not something you can blow up by mouth. Apparently you can use this inside as well as out but unless you live in a house the size of Downton Abbey I don't see it advisable.
The Thumbsup Roller Wheel is said to be suitable for children aged three years old and over. It can hold children up to the weight of five and a half stone (80lbs).