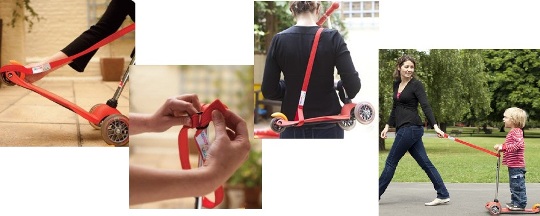 If you have offspring, then it is likely that you also own at least one scooter. You are also used to the following: carrying scooter and child home, carrying scooter home, putting back out dragging child on scooter while child yells, wanting to throw scooter in nearest bin but can't as it cost you a fortune.
Sound familiar?
HA! Well, Scoot 'n Pull is this rather ingenious solution to this very problem. You attach it to the scooter and you, um, pull. Yeah, that's it. Sounds utterly and completely ridiculous yes? But my goodness has it saved me.
You see my back goes out at the drop of a slipper. I actually put it out putting slippers ON, that is how cranky my back can be, so bending over to drag a scooter and a screaming child was always a bit hellish. With this I just plonked it onto the scooter, and pulled.
There are a couple of teething things to be warned about though…Firstly, your child needs to steer while you pull and, if your child is like my ditzy little thing, they may forget to do this. Somehow the psychological transfer of pulling power has her neglecting to point the scooter in the right direction. However, with a bit of practise it gets easier.
Second, it is a little bit too short for me. I would have preferred a longer lead. Still, this is hardly an issue and the bright colours and well made stitching more than compensate. Oh, and did I mention that you can loop the Scoot 'n Pull over the scooter so you can carry it home like a backpack? Clever eh?
No more scooter bumping on sensitive shin bones, instead it bumps gently on my plentiful bum. Grin.
It only costs £6.99 which is not that cheap really, but as an investment in parental sanity it seems worth every penny.