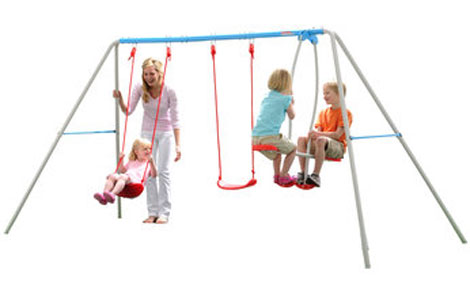 Toys R Us are selling this Brecon metal swing and glider set for just £29.99 instead of £59.99 AND there's 20% off at Toys R Us this weekend too.
This marvellous garden playcentre includes two swings and a glider and comes with ground pegs for extra support.
My cousins had one of these years and YEARS ago when we were all small and WOW! did I love playing on it, and did at every given opportunity.
It's funny, the summer holidays seemed to consist of endless sunny days and went on forever.
I know the weather's been rubbish of late, but next week looks set to be much better so this is an ideal time to grab some outdoor play equipment.
This swing and glider set is bound to bring hours and hours of joy and outdoor happiness to all involved - you, as it'll get your kids out of the house and active in the garden and them as it's just TOO much fun having a swing in your back garden.
There's a 20% off event running this weekend at Toys R Us too, which will bring the price down to £24.01...or at least it should do.
Thanks to maddie_moo at HUKD