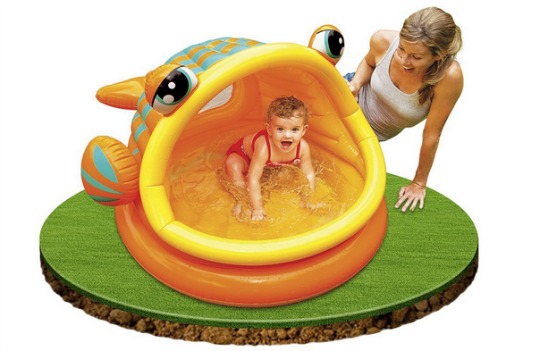 If you want a paddling pool for the baby or toddler this summer then this one looks like a great choice. The Lazy Fish Shade Baby Pool is only £13.95 at Amazon, with free delivery. It's shallow enough for the very young, it has a sun shade, and it looks amazing! Who wouldn't want to paddle in the mouth of a lazy yawning fish?
There are cheaper baby pools out there, but this has much bigger sun shade than most, so is really going to help keep baby protected in the sunshine.
It's an inflatable pool that can be used with water in the summer, or as a ball pool when it's not warm enough for paddling, and the dozens of reviews are really positive from people who have used the pool in both of these ways.
It is designed for children aged 1 to 3 years, as it's not going to be sturdy enough, or big enough for older children. For toddlers and babies this looks just right for a bit of supervised splashing about this summer. Will it be this price then? Maybe not, so I'd be tempted to get it now and put it away for the warmer weather.