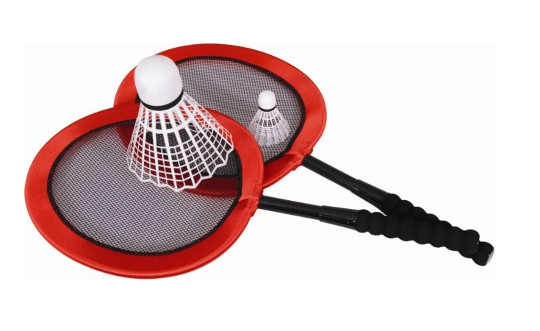 As I sit here writing this review, the sun has broken through clouds, and I can see the grassy patch outside flooded by bright light. After an arduous start to spring, just that sight feels a little bit like the first sight of the Christmas tree on Christmas morning! Now, hopefully, we'll have a few months of eating our dinners outside, and watching my children play in the garden. One can only hope!
Problem is, the garden and garden toys suffer greatly in competition with the lure of indoor toys, and sadly, kids TV! So, what's a mum to do? Get better garden toys, of course!
As it happens, Home Bargains recently sent us a Jumbo Badminton (£4.99) set to review, and we've had so much fun with it!
Unfortunately you're going to have to head to Home Bargains and pick this up yourself. There's no online ordering, no click and collect, and it's not even on their website, so this is all about old fashioned shopping!
The Jumbo Badminton set consists of two oversized Badminton racquets, a normal sized shuttlecock and a jumbo shuttlecock – sized to scale to match the racquets, I'd say.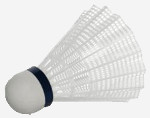 These are really brilliant. You wouldn't use them in a league match or anything, but for garden games they are so fun.
Their age regulation is 3+ because of small parts, which kind of made me laugh, because there's nothing small about this set!
My three year old loves the Jumbo Badminton. She can't actually play it, and she is pretty rubbish at hitting anything – bless her – but she loves trying. My one year old, on the other hand, loves it just as much. She runs between my hubby and myself squealing, trying to catch the shuttlecock. It's kind of hilarious.
The set is really well made. For something that I would say falls in the 'cheap' category, I'm quite impressed by it's quality.
The racquet is very light for its size. The handle has a soft rubber grip, making it soft to hold and easy and non-slip to grip, even when swinging it around.
The actual racquet bit is made up of a plastic tube, covered in what I assume is stretchy nylon (the red bit) but looks nice and soft and silky. The 'string' bit is netting which as a good bit of 'give' in it. It's well stitched onto the red bit and so far hasn't come loose anywhere. My baby likes walking with it pressed against her face like a fencing mask and has also tried to pick the racquet up whilst simultaneously standing on it, and it's still holding together, so that's pretty good.
The shuttlecocks are standard white with a black foam ring. I think the small one is regulation size but I'm almost certain it's lighter than the 'real' ones (many years ago, I played badminton in school!), and the jumbo one is JUMBO. Again, considering it's size it's really light.
I love that they've included a small shuttlecock in the set, because on rainy days we've been playing in the house, which is normally totally against the rules, and the small one is fabulous for indoor play. The large one is much better for our small, narrow, typically UK garden as it's not swayed by the wind as much. The neighbours only tolerate so many please-can-we-fetch-our-ball/shuttlecock/teddybear etc visits in any given summer!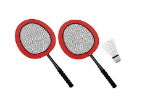 Overall, it's a fantastic set, and at the price you can't really go wrong. With very small children, the Jumbo Badminton is more of a family game, but I think as they get older, they'll really enjoy it.
The Good
The Jumbo Badminton is well made, and is good quality
It's great family fun, with even teeny toddlers able to run around chasing the shuttlecock
It's not very space heavy, so can easily be stored in a corner somewhere
The Bad
The only negative thing I've found is that because of the simple packaging, the shuttlecocks were a a bit squashed when they came out the bag, and despite some squishing and manipulating, they've pretty much remained slightly squashed. It hasn't affected play massively though. Perhaps in a pro game, but these weren't that.
The Verdict
Put it this way: I don't really 'store' much away for when the kids are older, but this set will be put in the cupboard waiting for summers to come when they can really enjoy it properly!