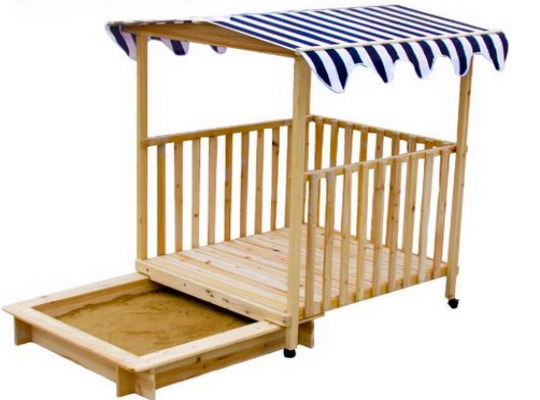 The summer is fast approaching and the kids will be out in the garden playing, or so you hope. A sandpit can be a great outdoor toy for little ones. We have found a sandpit with a difference. The Infantastic Sand Pit with Veranda is like no other and the blue one is only £50.50 plus £8.90 for delivery, making it a very affordable £59.40 delivered from Amazon seller JAGO24UK.
The Infantastic Sand Pit is made from wood and has a roofed veranda to keep you children out of the sun. It might not seem to hot outside but too much exposure can make children poorly. It can be handy to keep buckets and spades on too.
It can be moved around the garden with ease as it is on casters. This also means you can move it around to keep it in the shade.
The kids would love this I am sure and I am quite tempted to buy it myself.
If you like this then you will love this Choo Choo Train Wooden Sandpit* for just £189.99 delivered from Amazon Seller Real Sports Ltd or this Sand Sailor Boat Shaped Sandpit* for £129.99 delivered.