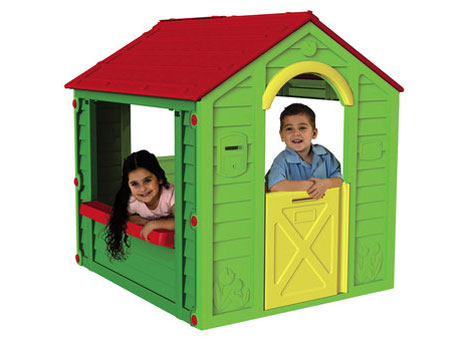 Toys R Us are selling this Holiday House for half price - £49.99 instead of £99.99.
Playhouses are always going to be firm favourites with kids and in my experience they cross the gender divide, boys and girls love playing in them with equal gusto!
When my youngest was two, or so, we used to walk a few metres down the lane to the little village pocket park.  They had a little holiday house there and he would spend HOURS playing in there - opening the door and going in, playing BOO! through the windows and collapsing in hysterics every time.
It was his 5th birthday on Sunday and we threw him a 'birthday party in the park' - there was a bouncy castle, football, rounders, frisby and all of the big wooden adventure trail equipment to play on.
Where did most of the kids gravitate to? Yup, the now tired looking plastic holiday house!
This holiday house is suitable for little kiddies aged two years and over.  It has an opening front door, two open windows and measures 99 x 118 x 117 cm.
If you live in Southern Ireland then I'm afraid Toys R Us won't deliver to you (don't know why!) otherwise delivery is an option; although you'll need to spend a penny more to qualify for free delivery - standard delivery is £4.95.
OR you can click and reserve your holiday house and go and pick it up yourself for free.
Thanks to amibees at HUKD