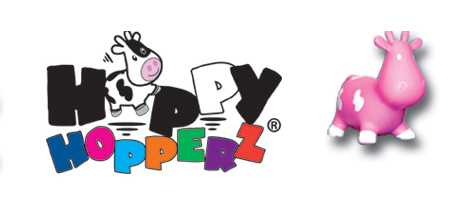 Hands up who LOVED bouncing around on Space Hopperz as a kid? *shoots my hand up!*
They could be a bit tricky to sit on though if you didn't get the angle just right, I seem to recall, although it has been many years since I boinged up and down on one!So feel free to correct me if I'm wrong, or perhaps my technique was just a bit naff.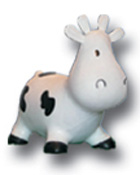 Much excitement greeted the Happy Hopperz Zebra when he arrived at PlayPennies HQ - would there be any chance at all that we'd be able to have a go without risking serious injury to him...?
After much debate and deliberation we decided 'no', So we sent him off to two PlayPennies mums to be loved, and tested, by those small enough not to squash him beyond recognition!
Our first mum, Tracy, had this to say about the Happy Hopperz zebra...
"My daughter fell in love with the Happy Hopperz Zebra from the moment he bounced through the door!" Tracy told us, "She named him 'Stripey Dude' and he became one of the central figures in all her Toy Story 3 games."
There are lots of Happy Hopperz characters to choose from, from pink and blue cows, orange dogs, through to red reindeers (ideal with Crimbo coming up!) and they have lovely flat backs to sit on...no having to perch precariously atop anything egg-shaped.
"When I read 'inflates in five breaths' I thought to myself 'uh huh, yeah, of COURSE it does!'" confessed Tracy.
"But it REALLY does; I was amazed! Having said that, re-sealing it is hard as the stopper seal thingy is under the stomach and I kept losing most of the air in the process. That was quite frustrating, but I got there in the end and felt rather victorious."

We wanted to know what it was like to bounce on!
All kids love to bounce, it almost seems to be a subconscious response: sit on something, test it for bounciness properties!
"The Happy Hopperz Zebra was robust enough to withstand my four-year-old daughter bouncing on it with ever-increasing enthusisam!" revealed Tracy, "She utterly adored him and we were both rather sorry to see him go."
The next family eagerly awaiting their chance to have a Happy Hopperz as part of the household, was Jess and her two boys, Elliot (almost three) and Rufus (just turned one).
"The zebra has become a very special friend in our family," Jess told us, "both the boys really enjoy playing with it in all manner of ways from its intended use as a bouncer, to Elliot making a nest for it."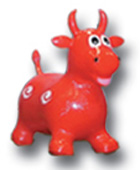 Jess really liked the shape of the Happy Hopperz, see...there's merit in not having to perch on something round!
"It's a great shape and very easy to blow up and whilst Rufus might be a little small for bouncing on it at the moment, he will get a lot of use from it in years to come."
And finally...
Whether you choose a blue cow, an orange dog, pink rabbit or a zebra Happy Hopperz, they all cost the same - £21.99 plus p&p.
What did our mums think of the price point for these bouncy guys?
Well, both Jess and Tracy felt they were maybe a little expensive if you just took the figure at face value, "They are definitely something you'd buy as a special present, rather than just something you'd pick up 'just because'," commented Jess.
"Perhaps a little expensive, but when you consider the sheer amount of use and abuse it's going to get, it's pretty good," concluded Tracy.