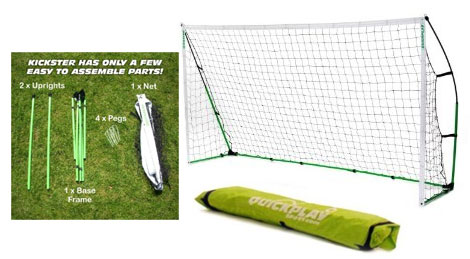 Fingers crossed that Amazon keep the price of this garden football goal at £59.99 for a fair while, it should be £89.99.
It's nearly time for your lawn to brace itself for endless summer games of football; the area in front of the garden football goal always seems to sustain the most damage, especially when the goal posts aren't easily moved.
I like moving the goal posts  around (in every area of life, haha!) so the worn out areas of lawn have a chance to recover, with this particular garden football goal that's very easy as it's extremely portable and lightweight - just 5.5kgs, which is pretty amazing considering it's 12ft x 6ft (3.6m x 1.8m).
A plus side of that is this garden football goal doesn't have to be consigned to garden use only, you can save your lawn the torture of garden football and take it to the park, or the beach, and away with you when you go on holiday.
It comes in a small carry bag and can be assembled in two minutes (literally) - there's a video on Amazon that shows just HOW easy it is to put together.
Supersaver delivery and all of the usual Amazon delivery options apply and it's got great reviews too.
Thanks to A2tharon at HUKD