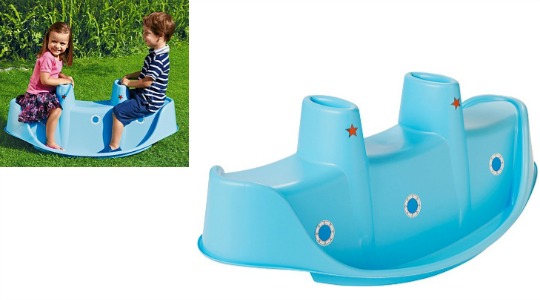 The Chad Valley Submarine Rocker is an absolute bargain at Argos just now. Originally priced at £19.99, it was reduced to £9.99 then to just £7.99. To be honest it was worth the £19.99. What looks like a lump of plastic is actually so much more and will keep the kids entertained for hours.
Don't look past this Chad Valley Submarine Rocker because you think it's an outdoor toy only because it's not. We had something very similar if not the same when my two eldest sons were tots. They played with it in their room without any destruction.
This rocker is modeled to look like a submarine with it's porthole stickers on the side and rocking handles that look like nautical funnels. This will get their imaginations running wild.
You can of course stick it out into the garden for the kids to play on. At this price it's worth buying it for Spring/Summertime, after all it will soon come round.
The maximum weight this Chad Valley toy can take is 25kg per child.
You can reserve and collect the Chad Valley Submarine Rocker for FREE from your local Argos Store.