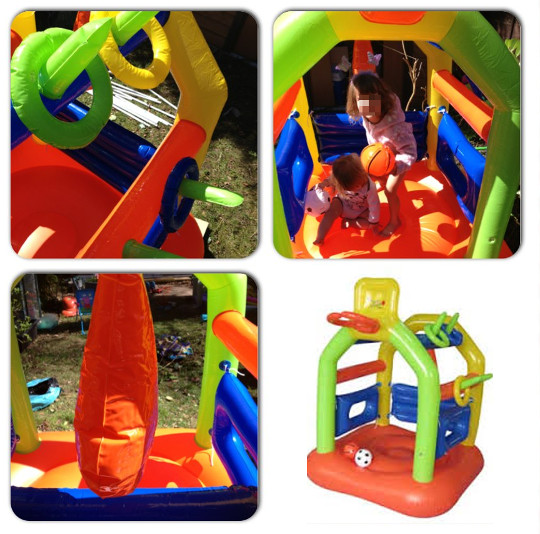 We've been trying to make our garden more child friendly, and add a few things to it to make it more appealing to little ones than being indoors, and one of the additions to our space this year has been the Chad Valley Inflatable Activity Centre*.
This multi-activity blow up bouncy castle has been a huge hit with both our three year old and our one year old.
The RRP for this activity centre is £32.99, and it's certainly been worth that.
We love the fact that it has three sides to it, making it pretty secure for a little one who is still a bit unstable on her feet on this type of surface. She can fall about without getting injured, so long as she doesn't fall hard, since it's not a huge 'castle' and she could technically fall to the ground, but so far that's not happened yet.
Despite mention of a slide on the Argos website, it doesn't have one, as you can see from the image.
It does, however, have ring toss with three rings on one side, a basket ball hoop up the top on the front, with an inflatable basket ball and an inflatable soccer ball (I think). Additionally there's a boxing punch bag at the back. All these accessories are inflatable.
The description also says that it blows up in five minutes. Perhaps if you have a pump of some description, yes, but it doesn't come with one, and we did it by mouth, so it took a fair bit longer, but we still managed it in one sitting.
All the components are inflatable, and it does retain it's fullness quite well. We don't have to inflate it every day or anything like that, though it does need a top up from time to time.
We've put some flattened boxes underneath the bouncy castle since it lives outside and we're conscious of something puncturing it underneath, and so far so good!
Overall it's a nice bit of fun, it doesn't cost a fortune, the children love it and return to it daily, even if they only play for a few minutes, and it's not a monstrosity that takes over the garden, nor does it require constant air with the sound of a running pump, so in all, perfect for a standard sized garden and two toddlers.