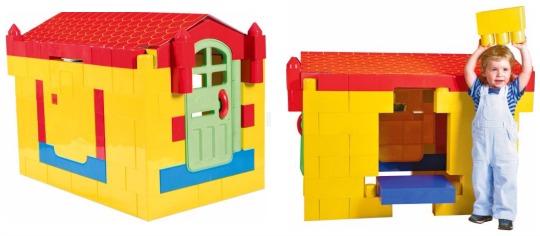 This is a playhouse with a difference - kids can build it themselves with giant 'lego like' blocks! There are also instructions to make it into a plane, a desk and loads of other things, but they can basically build what they want. It was £179.99, then has gone through several price reductions until with the new catalogue launch at Argos it is now £69.99!
It comes as a 92 piece set with different coloured blocks, and includes a door, roof, window ledge, mirror unit and even a toy telephone! If you want to build the house or any of the other suggestions then there are step by step instructions to help you do so.
As a playhouse it might not be the biggest, but as a toy it looks amazing. You can use these bricks inside or outside, and imagine the fun the kids would have if this was bought out at a birthday party?
As the Chad Valley Bigablocks House is so..well..big, it's a home delivery only item, so there is another £8.95 to add on for that.
I can think of loads of children I know who would love a set like this, and a fair few adults who would enjoy helping them as well!