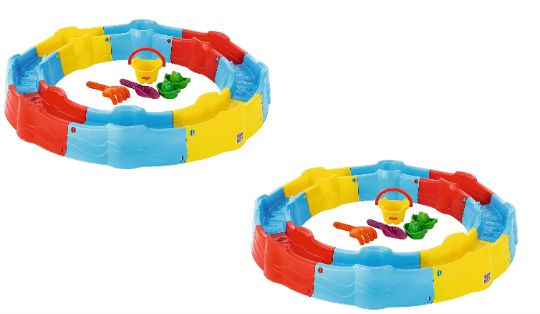 The summer isn't over yet, so if you are still looking for something cool for the kids to play with that won't break the bank then you will love this. Very have reduced the Build 'n' Play Sand Pit from £20 to just £13.50. What we like about this is that it can be used for a little play pit indoors once the bad weather comes. Meaning you can make use of it all year round.
The Build 'n' Play Sand Pit has over four stars on the Very site so we are confident that this is good value at £13.50. It's bright, colourful and will appeal to small children. Fill it with sand in the garden or throw in some Duplo blocks and take it indoors.
It's comes in blocks that all fit together, a bit like giant Mega Bloks. Each block has a groove in it which means water can be poured around the edge for more nonsense.
You can pick up the Build 'n' Play Sand Pit for FREE from a participating local shop with Collect+ or pay £3.99, which is more often than not next day.