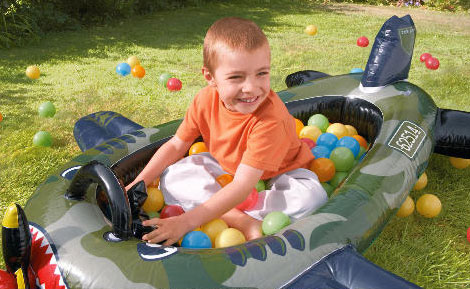 Tesco Direct are selling this Aeroplane Ball Pit for £3.98 instead of £4.90; yes I know it's only a pound off but, let's face it, even the full price isn't going to break the bank.
Not only that, the other ball pits on the Tesco Direct website are around the £15 mark, so this is a nice little price for a little ball pit.
Let me see what I can tell you about it, not much that you won't be able to figure out for yourself.
Here we have a little inflatable pit in the shape of an aeroplane.
You'll need to inflate it yourself  - you choose to do this with an appropriate pump (no nipping off to your local petrol station and using the air line!) or using your own lung power.
When that's done, you can fill the inflated aeroplane with colourful, round plastic balls.  If you really want to ring the changes and detour away from the manufacturers intended use, you could always fill it with water to create a little splashing pool.
OK, so I'm hamming things up a bit but, seriously, how much can you say about an Aeroplane ball pit?
I've scooted through all the reviews and trawled around the Tesco site, but I can't find ANY information anywhere to suggest whether the Aeroplane ball pit comes complete with plastic balls or not – hopefully it'll be clear on the box, so when you collect it from your local Tesco (as there's NO point paying £5 for home delivery) you can pick up some balls if not.
The age range for the Aeroplane ball pit is 2 years onwards; not sure why not younger than 2 years old, I can't see any small parts or reason why younger littlies couldn't enjoy this too.
Thanks to andywedge at HUKD