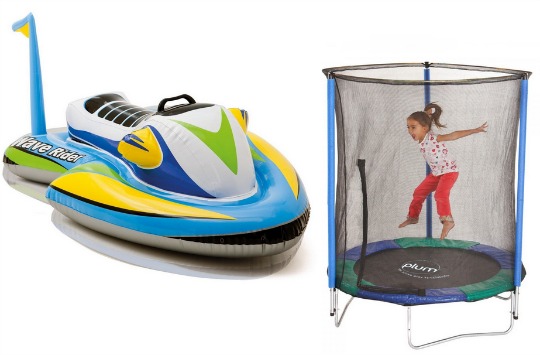 Tis the season to get heaps of outdoor toys and enjoy your garden for a few months because after that you are banished to indoors. That's what my thought process is like as soon as we get the first glimmer of Summer. If you do fancy picking up a few outdoor toys then you might want to check out Amazon first. They have up to 33% off selected outdoor toys and FREE delivery when you spend £20 or more.
There's plenty to choose from in the discounted outdoor toys event at Amazon. Like this Melissa and Doug Starfish Scoop* for £1.99. That's for using in a sandpit like this Plum Wooden Sandpit* for £17.70 or you may even venture to the beach to use it.
If you go to the swimming pool then why not grab one of these John Adams Leisure Wave Rider Ride On*. It's only £7.79 and you know it's gonna be fun. The reviews certainly suggest so.
Wanting something fun for the back garden? This Plum Junior Trampoline and Enclosure* is only £49.99 delivered. Kids are entertained for hours with a trampoline.