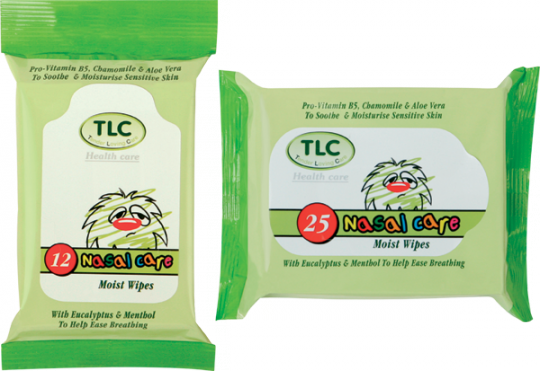 It's the time of year for coughs and colds again and TLC have sent us their Nasal Wipes and Eye Care Wipes to review.
The Nasal Care Wipes* come in a pack of 25 moist wipes similar to regular baby wipes, but a smaller pack.
As soon as you lift the sticky resealable plastic flap the blend of Eucalyptus and Chamomile  hits you in a sweet scent. It is rather lovely.
The wipes are soft, which is essential when you're dealing with a sore stuffy nose, and the scent is imbued into them, so that I'd imagine cleaning a little nose with them will help open the airways and the sinuses too. We've fortunately not had any crusty noses to test it on, but my girls do enjoy the smell of it for wiping snotty noses too. 
Now, I'm not usually a believer in all these 'extras' that are on the market for children but I definitely see a value in the TLC Nasal Care wipes. They're soft and very easy to use and at £2.29 or so depending on where you buy them, they won't break the bank for the convenience.
One possible thing to bare in mind is that where noses are sore and skin is cracked and hurting the wipes may cause a little sting for a few seconds.
They are enriched with Vitamin B5, Vitamin E Camomile and Aloe Vera, but they also have a cocktail of chemical preservatives and whatever else, but I think if you're sick or your little ones are sick,  they are quite nice and provide a very convenient and much less painful alternative to toilet paper or dry tissues.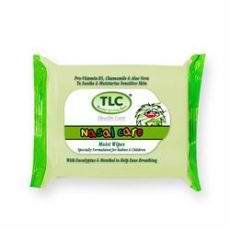 The Baby Eye Care Wipes* are unique sterilized, hygienic wipes for safe, effective and gentle cleansing of the eyelids and lashes. The only time I can really see a use for these is when your child has a gunky eye from  Pink Eye, or other similar puss inducing leakages, or crusty eyes when waking in the morning. As a breastfeeding mum I've always put expressed milk in my daughter's eyes for any infections, and that would always be my first port of call, but if that's not an option for you, these seem like a gentle idea - certainly more gentle than trying to put drops into a squirmy toddler's sealed eye. 
These wipes are hypo-allergenic and they are preservative free too, and come in individually sealed packages. You use one per eye (so as to avoid cross contamination), and I guess at £5.25 for 20 wipes, not too many would use them without specifically needing them.
I did find they left the skin around my eyes quite dry and tight so while they are preservative free, pH balance and contain no dyes, colours or fragrances, and do contain camomile I guess there's still something in them that might upset sensitive skins. I do think they're better than eye drops though. You could also use reusable wipes and warm water on seeping eyes, but then you have the danger of cross contamination, and infecting anyone else who uses the cloth wipes, so actually, in cases of infection, these are pretty good.
The Good
Both the Nasal Care and Eye Care wipes are conveniently packaged. You get 20 nasal care wipes which you could probably use up in one round of sickness, and the Eye Care wipes are individually wrapped sterilized wipes which is good because they'll keep for some time - our box is good till June 2016 - so you only need to use them as you need them. 

They are made with the intention of being as natural as possible, I think, and using a lot of natural products - chamomile, aloe vera, vitamins - to benefit your child which is quite nice. 

The nasal wipes definitely help clear the nasal passageways while they're breathing it in. They are also soft, which is a good thing. 

The Eye Care wipes also smell really nice, and they are super soft. I've said already, but will repeat - they are much nicer than using eye drops.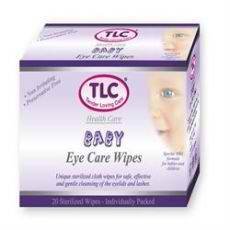 The Bad
I always harp on about chemicals in stuff, even when they're dermatologically tested and hypo-allergenic and all that jazz, because even with all that, no matter what the product, either myself or one of my children will have a reaction to it. These still have a fair amount of chemicals  in them, and the eye wipes dried the skin around my eyes and made them feel tight, but that's easily resolved with some moisturiser. I didn't experience any issues with the nasal wipes, and my daughters didn't resist as much with them as they do with toilet paper.
The Verdict
I think there's a place for both products in your medicine cabinet, and since they're not for every day use, I think they're fairly priced too. They are very much a luxury rather than a necessity, but they are convenient and sometimes that's just what a new mum needs.