A couple of weeks ago we reviewed the Tesco Loves Baby Newborn items from Tesco. Today we're reviewing some items for slightly older toddlers.
I'm not a huge supermarket shopper anymore, so I've asked a few friends recently about their experiences of Tesco Loves Baby, and overall, the comments have been positive. They've mentioned things like good quality at a cheaper price, and consistently reliable products. Some felt some things were hit and miss, especially with the nappies, but that can be said of absolutely any brand of nappy, whether disposable or reusable.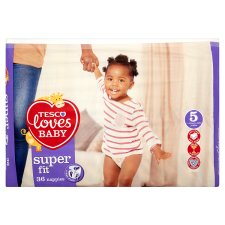 That's the case for us with the Tesco Loves Baby Super Fit nappies. We were sent the size 5's to try, which are for children 11 - 25kg in weight. While they fit my daughter, and she quite liked the heart and giraffe images, she wasn't able to wear them for very long without getting a rash. I've mentioned before that her skin is really sensitive though, and it's why we switched to cloth nappies when she was a few months old.
The nappies have an elasticated leg to prevent leakage, which for us worked pretty well. Because of the sensitive skin issue, we didn't try them overnight or even for very long stretches of time, so I can't promise they wouldn't.  It's like with any trousers though: what fits me might not fit you!
They only cost £5.97 for a pack of 36 though, so it's certainly worth trying them to see if they work for you. If they do, you've saved a fortune and if they don't you've not lost too much. Sometimes they also have them on sale at 2 for £10.
We really liked the Tesco Loves Baby Chunky Cutlery Set. My baby girl is 13 months and has only just this past week really started eating properly, and isn't using cutlery for eating yet, but she does enjoy copying her sister and likes putting these in her mouth.  There are three fab bonuses of this fork and spoon set - firstly they are lovely and chunky, making them easy for little hands to hold. They also have a great grip, so they don't slip easily. Finally, they have deep mouth bits - there must be a word for that? The bits that actually go in your mouth are nice and deeps so food doesn't fall off as easily. My older toddler, 3 years old, took it for a test drive, so to speak, and she liked it and food didn't drop off her fork as much, so that's good!
The last item we received from Tesco Loves Baby was a pack of Sticky Fingers Messy Faces Wipes. These are quite small packs, with about 30 wipes a bag. They are perfect handbag or day bag sized packs, actually, and sell at .98p although they are currently available on a 2 for 1 offer, so that's a really good price.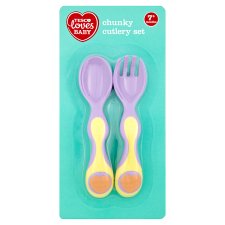 These smell fantastic. Seriously. I don't like chemical wipes, which these are, but man, they smell so good, I cant help but use them, especially on myself. They are delicious. They have a really fruity fragrance, and smell so fresh and great. The wipes themselves are nice a solid. They aren't thick like toweling, but they won't fall apart in your hands either. They are toddler perfect.
The bag has a hard plastic clipseal which is an environmental fail for such a small, non-reusable bag, but a win for convenience, and them not either leaking out with the slightest pressure put on them in your bag, or drying out because the little plastic flap has fallen off. I'd love to see these produced in economy packs, bigger, and perhaps a reusable dispenser.
The Good
Each product's good and bad points are discussed individually above. Overall they are well made and decent quality. They are used and loved by many mothers and toddlers across the country.
The Bad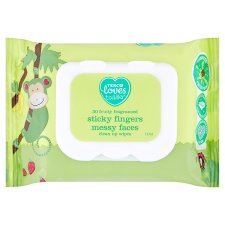 My only niggle is that none of these products are very environmentally friendly. There are better options available for the eco-minded, but the truth is that our best will in the world, sometimes we have to go for convenience, and just sometimes, we have to let the bank balance decide for us. Every one of these products does that - fills a need without putting pressure on our pockets, and sometimes, that's what we need!
The Verdict 
And that concludes our Tesco Loves Baby review. Some product were a hit, some a little off the mark, but none that I would vehemently warn you against. They fill a purpose, plug a gap, are practical, useful, even cute and don't cost a fortune, especially when you catch them on a sale, which these currently are.