Review: Tiny Love Classic Development Mobile £34.99 @ Kiddicare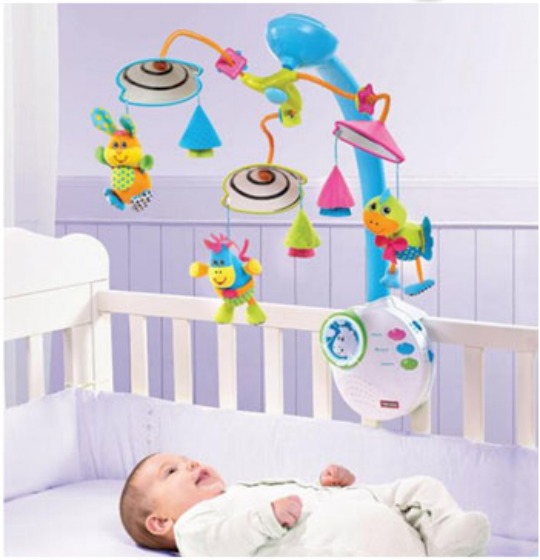 This is just about my most favourite bit of baby gear ever.
The Tiny Love Classic Development Mobile is on special offer at Kiddicare* right now too - reduced from £49.99 to just £34.99.
I first bought one of these almost ten years ago when my eldest child was born, and it stood the test of time long enough to get passed on to my second baby a few years later. I wasn't sure it would still exist when baby number three made a recent appearance but I was delighted to find it in stock at Kiddicare. It is far and away the best cot mobile I've ever come across.
It's perfect for newborns because of the black and white swirly patterns which even the tiniest of babies can make out - all three of mine have been mesmerised by this since day one. And unlike other mobiles which are specifically marketed as suited for tiny babies, this one still appeals to older babies when the bright colours begin to hold their attention.
The music is fab too - it features three classical tunes which won't send you demented, and each one lasts for 20 minutes which I find is just long enough to keep baby entertained while I jump in the shower and get dressed.
The mobile also has four types of baby-friendly movements that help your baby focus on objects and track them with their eyes, which supposedly helps to strengthen baby's spatial perception, eye muscles and vision. Apparently it even contributes to the development of language, and the sounds form 'musical sentences' that help stimulate your baby's linguistic faculties.
I love the calming night light feature too - it's just bright enough to let the baby see the mobile even in a dark room but not so bright as to disturb anyone else sleeping in the same room.
It's great in terms of value for money too, because it converts to a crib-side music box when your baby outgrows the cot mobile stage.