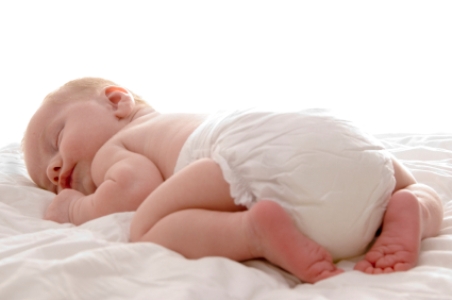 When I first heard of the HoMedics SoundSpa Lullaby I must confess that I was sceptical. It seemed like one of those fancy gimmicks that are thrust upon unsuspecting parents when they're too sleep deprived to think. I could not have been more wrong.

The SoundSpa was developed to create relaxing and soothing sounds to help lull little ones off to sleep. The soundtracks included with the device are Twinkle Twinle, Rock-A-Bye-Baby, Cradle Song, Rain, Ocean and Heartbeat.
You can set it to run for 15 minutes, 30 minutes or 60 minutes so you can match it to suit your baby's temperament or mood. The SoundSpa also includes interchangeable discs that project and rotate images such as fish, stars and animals onto the wall or ceiling. You can mix and match the images and sounds to create a different experience every night.
According to the information I got with the SoundSpa, the World Health Organisation and the National Sleep Foundation say that we all need periods of rest in a calming environment and at least seven to nine hours of sleep a night in order to function properly. No wonder I'm constantly ready to commit murder and no wonder new parents are so reclusive. 

Needless to say I had this product shipped around to two different mums, both of whom had given birth in the last six months and neither of whom had had any sleep for quite some time. Mum one, Anya, has a little boy called Theo that refuses to sleep at night. He's left her with little strength to cope with her three year old daughter. She was ready to try anything when the SoundSpa arrived.
"This little gadget is so great! It's got everything you need to calm baby in the early days and has bought me precious moments while he's in his cot," she says. She went on to explain that, "the whooshing noise which is meant to replicate the noise they heard in the womb really helped him to settle at night and the other white noise options like rainfall and ocean sounds are so relaxing."
"Theo and Beth loved the picture projection and lullaby options and the timer meant that I could plug it in and go to sleep without having to get up and turn it off in the middle of the night."
Anya has reported that both her and Theo have fallen asleep with the help of the SoundSpa and she's a complete convert.
Our second mum, Lola, has a daughter aged four who has refused to sleep through the night since she was born. Like Anya, Lola was ready to try anything to get her daughter to sleep. She said, "I pretty much leapt onto the SoundSpa the moment it arrived and had it installed and ready to go within minutes. It was so easy to figure out and use which is great considering I'm too tired to struggle with complicated directions."
She said that Freya has shown a marked improvement in her sleep patterns since she started using it especially since "Freya is so much older so she can turn it on herself when she wakes up at night." Lola isn't sure if the fact that she's now only being disturbed once or twice a night is because the SoundSpa is a fad and that things will revert once Freya gets bored. However, she did say that, "It feels as if a milestone has been reached as Freya is getting up less often in the night to turn it on but not waking me up either."
So there you have it! A surprisingly fantastic product that has had rave reviews from our Mom Panel this week.  As there is no price you can put on a good night's sleep, the £24.99 for this unit is a complete bargain.
So, if you know of any expectant mums or desperate mums then feel free to point them in this direction.