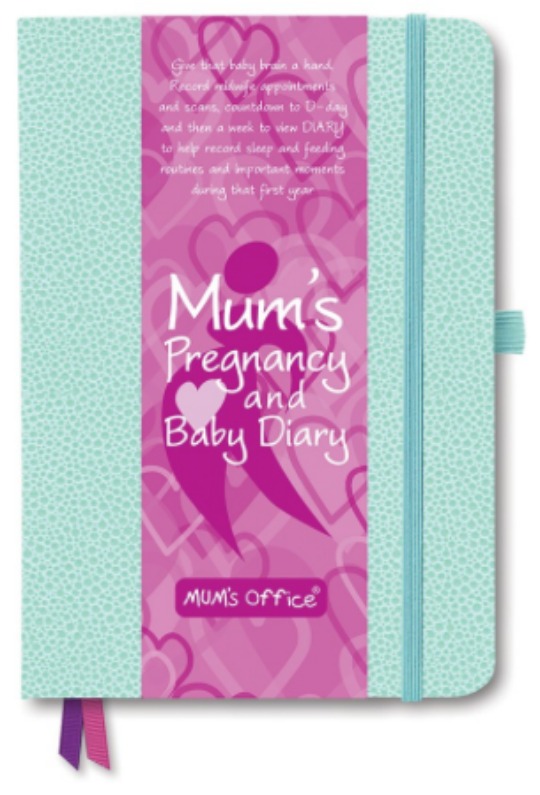 "Give that baby brain a hand. Record midwife appointments and scans, countdown to D-Day and then... record sleep and feeding routines and important moments during that first year."
That's the blurb on the front of the Mum's Pregnancy and Baby Diary (£16.95) which Mum's Office sent me to review. I'm not exactly won over by the assumption that I must have 'baby brain' and, what's more, I have to preface this review with the admission that I'm not really a paper diary person. I used to be, and still have a soft spot for a lovely leather-bound desk diary that makes you feel organised every time you even look at it, but these days I use the calendar on my phone instead.
So, to cut to the chase, I don't think this Mum's Pregnancy and Baby Diary from Mum's Office will 'turn' you if you're a digital diary kind of person. But if you're expecting a baby and are an old-school lover of a traditional paper diary then this might be just your cup of tea.
Measuring 20cm by 15cm with 176 pages, it has a thin hardback cover with rounded corners, a 'gusset' pocket on the inside back cover (which I'm guessing isn't intended as a clever place to stash your supply of maternity knickers) 2 grosgrain ribbons, plus a pen loop and an elastic strap to hold it all together.  BABY is also stamped onto the front cover in silver foil, so you might raise a few eyebrows if you whip it out at the school gates to schedule a play date if you haven't yet shared the happy news with the world.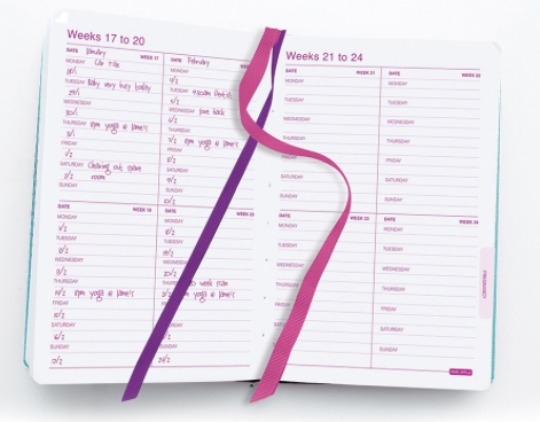 Joking aside, this is less of a diary really, and more of a keepsake of your pregnancy and the baby's first year. According to the marketing blurb, it is designed to help you keep track of your pregnancy, organise your routine once baby arrives, and note baby's development. It's undated so that you can start using it at any time, and it's divided into the following sections:
IMPORTANT - pages to record personal information, appointment details, your birth plan and baby's information
LISTS - pages to help with packing your hospital bag, things to do before baby arrives, shopping for you and your baby and gifts received
NEED TO KNOW - pages for information, important phone numbers
PREGNANCY - an undated pregnancy diary for you to date and start using once you know that you are pregnant
THE WEEK - an undated double page spread with a grid format for each week of your baby's first year, and
NOTES.
I can see that this would make a lovely, thoughtful gift for an expectant mum, and it might particularly appeal to a first time mum who is the type to want to record all the details of her pregnancy and new motherhood.
However, I find it a bit off-putting to have a diary that is so completely dedicated to just one part of my life. Granted, having a baby is a big deal and it's a lovely idea to have a place to record all the details of your pregnancy, but an entire diary themed around that just isn't practical for me. I need to write so much more in my diary than details related to my pregnancy  - things like people's birthdays, or the practicalities of my other children's daily routine, from what days they'll need their PE kit to when they've got doctor's appointments. But somehow writing such mundane details in this diary felt a bit like I was 'ruining' it - it's hardly the precious keepsake it could be when you write 'VERRUCA appointment' in it.
I also didn't even think about using several sections, including the one for recording your birth plan. I wrote that in my maternity notes which is where my midwife will look for it when I'm in labour, so duplicating it in my diary (or having to remember to take my diary to hospital with me) is all superfluous to my needs.
I felt it was the sort of item that a more organised mother might one day pass on to her child, and it would certainly make amazing reading for that child, if you filled it in properly and noted every lovely detail of your journey into pregnancy and new motherhood. But frankly as a third-time mother I just found I didn't have the time to use this as it's intended, and cluttering it up with reminders to pick up the dry cleaning just kind of spoiled it.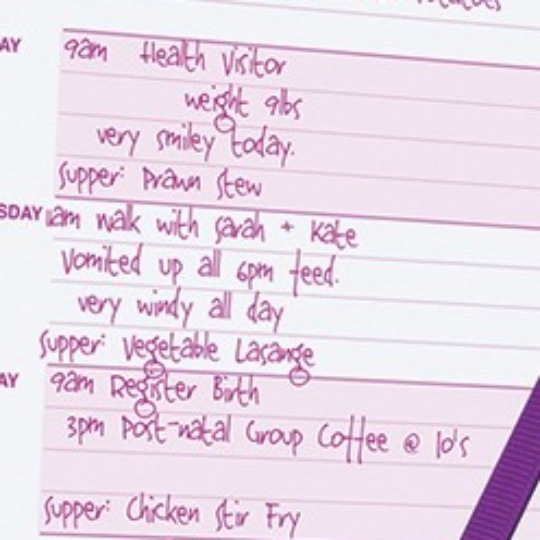 There are some elements of this diary that I think are ingenious - but I'd like to see them incorporated into a 'normal' diary that you wouldn't feel weird about using when you write things in it that are unrelated to pregnancy or motherhood. For example I really wish I'd made use of the section for recording details of all the gifts we were given for our baby. She's five weeks old now, and cards and parcels are still arriving for her but I lost track long ago of who sent what, and which thank you cards I've written and which ones I've actually posted. This section would be really handy if only I were organised enough to make use of it.
Ultimately you either have to use this diary in addition to a 'normal' diary (which would be a pain - remembering to use one diary is enough of a struggle for me without juggling between two of the things) or you have to try to assimilate your whole life into a diary that is unashamedly and singularly dedicated to one dimension of your life.
Pros: Would make a good gift for a very organised, expectant mum. (Who doesn't object to the assumption that she's suffering from baby brain...)
Cons: A good idea but not entirely practical, and a little on the pricy side.
Overall: Some mums will love this. I'm just not one of them.