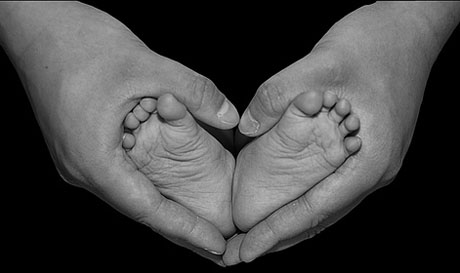 There are two things you're guaranteed when you have a baby – their socks will keep falling off and their clothes will be constantly damp from drool. The arrival of Sock Ons and Dribble Ons, designed by mother of five Kezi Levin, are supposed to solve those problems neatly.
One of our mums, Anya, was the proud new owner of a baby boy, Theo, and she was sent some samples to test and examine.

These clever inventions lock the socks into place so you won't have to deal with the one-sock-but-where-is-the-other-one drama ever again. Made from a blend of elasticised material with contrasting stitching, they are available in a wide range of colours and designs. So, what did Anya think of these?
"Aaah, now that's ingenuity. It never ceases to amaze me how a six month old baby, who is supposedly completely helpless and unable to do anything useful, can kick off a functional pair of socks in a couple of seconds," she said, "This always happens when you've got your back turned doing the dinner! So these were a god-send in the battle to keep those tiny tootsies warm and snug."
Now, this lady is a hard one to please, yu may have noticed this in previous reviews she done, and she is not easily impressed. This is high praise indeed.
"These are very simple but effective!" she said, "My only concern is that they are so dinky, how am I going to keep track of them in the wash?"
Perhaps she should do some handwashing...
Selling for £3 at Mothercare they are good value for money, especially when you consider how many pairs of socks they are saving you from buying!
These dribble bibs styled like adorable little bandanas are a stylish solution for the damp baby. They are made from stretch cotton and terry towelling to absorb the moisture while still staying comfy. They are available in a range of colours too.
"I just love the Dribble On bandana" said Anya, "It is so much more stylish than just shoving a bib around your baby's neck on the days when it feels as if they are dribbling like mad. The cute blue one I tried turned my little boy into an instant cowboy. I just wish I had a matching set of boots and a Stetson to complete the look."
Clearly Anya liked the way these looked on her little one, and it's obvious the design is adorable, but do they actually work?
"On a purely practical level it works beautifully, although on really dribbly days you may need a couple of spares to keep the soggy clothes at bay," she said, "I like the fact that it's got two popper settings so it can grow with my baby. At £5.50 each they are more expensive than your standard bib but looking good doesn't come cheap!"
You can get these customised with your child's name embroidered on them and they sell at Mothercare and Jo Jo Maman Bebe.

And Finally
These clever devices have been soundly approved by our strictest member of the mum panel. They are well made, stylish and not too expensive and, most importantly, they do their jobs well.