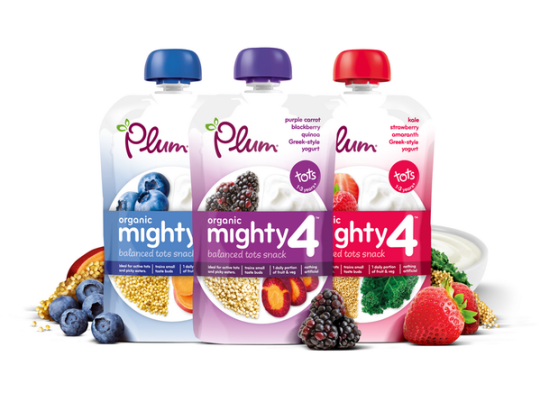 I am already a big fan of Plum Baby organic baby products and weaning foods, so I happily agreed to review their new range of healthy snacks for toddlers.
All Plum recipes are made from responsibly-sourced organic ingredients, and Plum products are 100% organic, contain no added sugar or salt and are free from all additives, artificial flavourings, colours and preservatives.  

Billed as an innovative super-nutritious snack pouch for toddlers, Mighty 4 are the only products in the UK to cover four food groups: fruit, vegetables, dairy and ancient grains. (Click here to buy online at the Plum* store.) I'm told that the inclusion of high quality organic ingredients such as super grain quinoa rather than baby rice make them nutritionally-superior to other brands of baby food, too.
Here's what they claim in their press release:
"Plum takes enormous pride in their first-rate organic recipes, nutritional credentials, and fantastic taste – coming up trumps with mums and dads in blind-tastings across the UK. Knowing the dangers of adding sugar and other additives to baby and tot food products, Plum ensure that they are doing best by little ones everywhere and include only natural and nutritious ingredients in their pouches and pots. The Mighty 4 range is no exception - ensuring a mouthful of goodness with every scrumptious squeeze, giving tots the very best start to an active and healthy life."

"Plum knows how parents worry about getting the right food in to their little ones, particularly fussy-eating toddlers, and so have created these great-tasting pouches to help mum and dad during snack times. The delicious pouches are easy to carry around and enable tots to self-feed. They are ideal for avoiding mini meltdowns when tots are getting peckish and guarantee to provide them with a nutritious boost to fuel them until their next main meal."
So how did the Mighty 4 pouches stack up against those claims?
Well, first up the packaging is certainly appealing to little eyes, as evidenced by the fact that I had no problem persuading my little helper to taste-test these with me.
And as a parent, the inclusion of healthy ingredients that I might not otherwise easily introduce into my child's diet makes the Mighty 4 range particularly appealing, too.
We were sent the following:
Blackberry, quinoa, carrot and Greek-style yogurt (12m+)
Sweet potato, blueberry, millet and Greek-style yogurt (12m+)
Kale, strawberry, amaranth and Greek-style yogurt (12m+)
Now I'll freely admit that kale, millet and quinoa don't feature frequently in my own diet and thus are tastes that my tots are unlikely to encounter.
Heck, I didn't even know what amaranth was, and had to look it up! I still don't really know what it is, beyond the fact that it's a grain, and is purported to be packed full of nutritional goodness.
I must also admit to being a tiny bit perplexed by these pouches at first. I couldn't understand why I'd want to cart around pureed pouches of food for a child aged between 1 and 3 three years old - surely at that age it makes more sense just to offer fresh fruits and vegetables as a healthy snack?
But actually the idea of getting highly nutritional goodness into a tot so easily is pretty spectacular. I wouldn't know what to do with half of the ingredients in these when it comes to preparing those foods for my child, so being able to just hand over a delicious-tasting fruity flavoured pouch and letting Plum do all the hard work for me is fabulous.
They taste rather lovely, too. It's certainly an acquired taste - more fruit flavoured yoghurt than the actual ingredients - but my little tester happily slurped away on hers, and the strawberry one was the biggest hit.
Due to be rolled out between now and April 2014,  they will be available from Sainsbury's, Tesco, Asda, Boots, Waitrose, Ocado and Morrisons as well as from the Plum store online.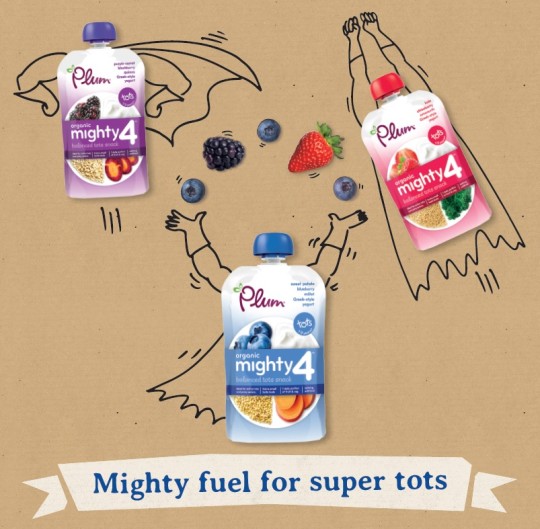 Overall, I'm a total convert to the Mighty 4 and will certainly be stocking up on them once they hit the shops. I love that they make it so easy to have really healthy, organic and highly nutritious snacks easily to hand with minimal effort. I'll definitely be stashing these in my nappy bag!
It's also really refreshing to find a food aimed at older children which is still healthy and nutritious, and which continues the process of introducing them to new flavours and foods. It seems to me as though most brands aim this stuff at weaning babies but once you hit the 12 months + section of the baby food section in the supermarket it's all crisp substitutes - not exactly the most wholesome food. At that level, the Plum Mighty 4 range is a game-changer and I'm really glad to have discovered it.
Pros Super healthy and super handy. What's not to love?
Cons At £1.19 they're a fairly pricy snack but c'mon; check out the ingredients. Can you really put a price on getting that kind of goodness into your little one without having to lift a knife or find a chopping board?!
Overall verdict We love these, and they're set to become a nappy bag must-have - the perfect pick me up for tired tots after a busy morning at nursery!
Suitable for children aged 12 months and over, the Mighty 4 pouches are priced at £1.19 per and contain 100g.