We were sent the Oxo Tots Flippy Snack Cup (£6) to review a while ago and we've been using it regularly for months now. If you want to skip to the summary, I can tell you, it's a brilliant on the go snack pot.  If you want to know the finer details, read on. 
So, the Oxo Tots Flippy Snack Cup is a snack pot. It doesn't require or come with batteries, or a user manual or anything fancy. It's a bowl with a handle, a lid and a cover. It is pretty great though, with a few negatives. 
To start with, the Flippy Snack Cup is 3.5" x 3.5" x 2.72" in size making it fabulous for your handbag, or a lunch bag. It is a brilliant receptacle for things like nuts, seeds, grapes or the Alphabites I reviewed yesterday, which is what we have in it most of the time.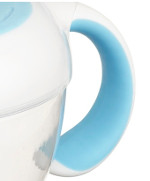 It holds enough to provide 'snacks' for two or a fill-your-tummy amount for one.

The snack cup has an unusual 'lid'. It's made of soft flaps that just about touch, and need to be pushed aside to get at the contents. This is brilliant because it means generally, when tipped or knocked over, you don't have the contents of the cup all over the floor, or as often happens with us, all over the car.
The sides of these flaps are soft too, so there's no pain involved in getting bits out of it. This isn't water tight though, so if you put fruit in there and it leaks it will leak out when shaken and held upside down.
For that, however, there is also a 'travel cover', essentially a lid over the lid. It's genius. Almost.
The 'almost' comes in with the fact that the lid separates from the cup and is so easily lost. I've 'lost' it about four times already, and have fortunately found it again, but it's still annoying. I'd have preferred if it attached somehow, or if you were able to clip it to the handle or turn the lid into a stand for the cup or something. Anything other than it being taken off and put 'somewhere'. Its see-through, too, so it can be really hard to find!
The lid does clip on pretty securely, however, and needs a little effort to take off, so though my four year old can do it, it doesn't slip off on its own, which is nice.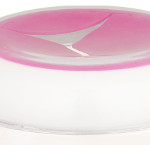 The handle is a good size for holding, and has a non-slip grip. It is a partial handle, so that it clips conveniently onto a stroller or toy clip. 
Cleaning is also quick and easy: pop off the top, unscrew the lid and stick it in the top shelf of the dishwasher, no mess, no fuss. If I do my snacks at the start of the week, I can put nuts or seeds, or date balls or whatever in these, and pop them in the fridge so I take one out every day. It's really convenient.
I do think they're quite pricey, if I'm honest, at £6 each, but once you've taken the hit, they are really good and value for money.
The snack pots are available in blue, pink and green (or aqua, green and raspberry!) and can be bought from OXO Tots directly.
The Good
The 

Oxo Tots Flippy Snack Cup

is convenient and its cleverly designed. 

It is a good snack size, as well as a good handbag size, perfect for emergency snacks. 

The lid design for keeping the contents fresh is great, and the soft flaps that allow little fingers in but without letting food escape too easily, is great too. It's really very clever. 

The travel cover is great too as it keeps your bags clean and clear and your food fresh. 

It's all quick to clean, nothing specialist required. 
The Bad
The travel lid is easy to lose, and could do with a way of attaching it to the cup. 

It's quite a lot of money for a snack pot, but I do still think it's value for money. 
The Verdict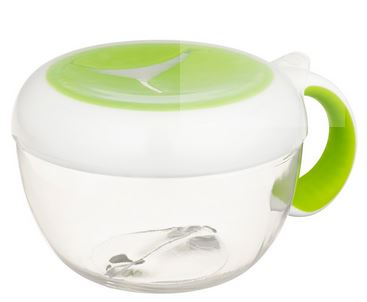 I think my opinion on these is pretty clear. I think they're great and would recommend them to a friend. If you can, buy a set so you have a few on the go, or with different snacks in them. It's worth the money, especially since you can use it from baby snacks to toddler food to school and even for your own snacks if you wanted to!